"MIKA writes monster pop tunes that have such rich emotional complexities gushing under their sing-along surface it is almost as if he is daring listeners to call his bluff. These are songs of psycho-sexual drama tarted up with cascading melodies and irresistible hooklines, delivered with the camp showmanship of the Scissor Sisters channeling young Elton and Bowie." – Telegraph
This May and June, Split Works is very proud to bring Grammy-nominated singer songwriter MIKA for his debut tour of China. Prepare for a high energy, high-colour glitterball of showmanship underpinned by some of the most infectious songs in popular culture. MIKA and his full entourage is set to warm the hearts of fans across Beijing (29th May), Shenzhen (1st June), and Hong Kong (3rd June). Get your dancing shoes on and let's get ready to rumble!
MIKA began his pop career in 2007 with the defining single "Grace Kelly", which went on to sell over 3 million copies worldwide and was the second British single ever to top the chart on downloads alone. It was #1 in the UK for 5 weeks and topped the charts in 6 other countries. Total single sales from his debut album Life In Cartoon Motion exceeded 6 million, and the album itself went straight to #1 in the UK and 11 other countries, going on to sell over 7 million copies worldwide.
His second album The Boy Who Knew Too Much (2009) built on this success, making it into the top ten in over 10 countries worldwide. The record contained the hits "We Are Golden", "Blame It On The Girls" and "Rain". In 2011 MIKA released the French language single "Elle Me Dit" which topped the French charts for 8 weeks in 2011 clocking up over 300,000 sales, and becoming the second best selling single of the year in the process. The video featured legendary French actress Fanny Ardant and received over 35 million plays.
His third album The Origin of Love was released to international acclaim in 2012, and included the huge single "Celebrate", featuring Pharrell Williams and US smash hit "Popular Song", which was later reworked as a duet with American Nickelodeon sensation Ariana Grande. 2013 went on to see MIKA become a judge on X-Factor Italia (learning Italian in 3 months to be proficient on live TV!) and a season coach on The Voice in France. The episodes of both shows blew the ratings, causing his status in both countries to rocket. 2015 delivers more surprises – there is word MIKA has finished his 4th studio album, due for release soon!
MIKA has been nominated for and won awards from the Brits, the Grammys, the Ivor Novello Awards, The NRJs and The World Music Awards, among others. He was also the recipient of the prestigious French award "Chevalier dans l'ordre des Arts et des Lettres". MIKA has now sold over 10 million records and has Gold and Platinum awards in an impressive 32 countries worldwide.
MIKA Performance Details
【BEIJING】
Date: Friday May 29, 2015
Door Time: 19:30
Presale Ticket: 380RMB
Door Ticket: 480RMB
Venue: HIT FM Live 糖果
Address: 3/F, Tango, 79 Hepingli Xijie, Dongcheng District (东城区和平里西街79号 糖果3层)
Sold Out! No tickets will be available at the door.
【SHENZHEN】CANCELLED
Dear MIKA fans,
We are very sad to announce that due to health complications, MIKA will be unable to complete his tour in China. Following amazing performances in Beijing and Hangzhou, the energetic star – who so kindly helped us overcome a near cancellation in Beijing by playing two shows – was admitted to hospital in Hangzhou. Please see below for an explanation from MIKA himself: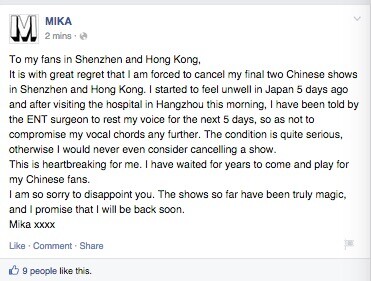 【REFUND INSTRUCTIONS:】
Fortunately we are able to refund all tickets purchased via Youyanchu and Yoopay. Your money will return to your account automatically within 3~5 working days. If you used Taobao to complete your transaction, your money will return to your Alipay account. If you do not receive your funds, please call these hotlines:
-Yoopay: 400.0800.620
-Youyanchu: 4008.5566.94
Here at Split Works we wish there was something more we could do. For now we simply wish MIKA a speedy recovery, so he can one day return to see us.
Rock on,
Split Works Team
About Split Works:
Split Works has been rocking in the free (ish) world since 2006. Working with inspirational artists from across the globe, the good people at Split Works HQ have been a key contributor to the continued rise of China's music scene.
Split Works has launched four music festivals (with a 5th in the works) and promoted over 400 tours to 30 Chinese cities, always striving to stay true to a familiar refrain: the music has to be special, every single time. From Godspeed You! Black Emperor to Sonic Youth, from Thee Oh Sees to Mac Demarco and Shabazz Palaces, from Black Rabbit to JUE and Wooozy to More Music, we love music, we love China and we love you.
Get up close and personal: Wechat (@splitworks), Facebook (splitworks), Instagram (@splitworks), Twitter (@splitworks), Weibo (@splitworks潮流音乐), Douban (Split Works) and www.spli-t.com