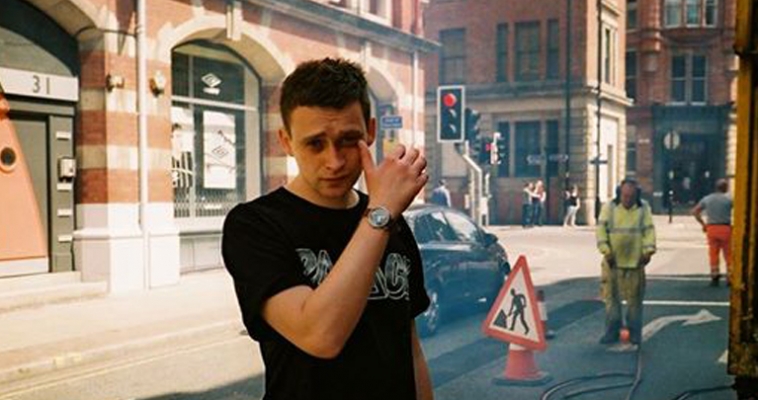 "There's no question that this is one of our best artists in the form of his life." – Mixmag
Wooozy Offline brings out the big guns this November. Acclaimed UK producer Lone is coming to throw down his live a/v magic show, which in China will feature DJ and visual creative star Konx-om-Pax.
The hyper-chromatic music of Matt Cutler marks him out as a true impressionist. As Lone, he drizzles brightly colored melody through his tracks with all the reflexive skill of a master painter daubing inks and pigment across paper. On Reality Testing (Cutler's fifth Lone album, released on legendary imprint R&S in June 2014), he sends notes and chords rippling delicately into space before allowing them to disperse, to ooze beautifully away into the background fabric of the music. Combined with rhythms that ebb and flow, shifting from propulsive club constructions to beatific coastal hip-hop, it's a sensuous, immersive, heady experience, and easily his most accomplished and self-contained work to date.
"I was listening to a lot of Detroit techno and old Chicago house that had the same grain and dirtiness to it as a lot of the hip-hop I was listening to," says Cutler of the genesis for Reality Testing. "That was the real spark – I wanted to make an album that had both hip-hop and house beats, but that weren't completely different from each other, that shared the same sort of vibe. I love the idea of two things sat side by side, but instead of it seeming like they're complete opposites, [it's more that] those two things could almost be the same thing."
Indeed, Reality Testing is unique among Lone's work to date with its feeling of complete unification. Throughout, he draws upon the many loves and inspirations he's previously explored in his own music – house, techno and instrumental hip-hop – weaving them together into an inseparable whole.
Cutler's prolific output as Lone has portrayed a restlessly creative mind, always searching for new pathways down which to take his sound. Others have taken note – he's produced for for Azealia Banks, and remixed for the likes of Radiohead, Friendly Fires, Nathan Fake, TEED, Underworld, Steffi, Midland and more. In his early years, he remembers, his work rate was relentless: "literally every day [I'd be] working on music, doing tracks really quickly, just trying to capture a mood and a vibe." Lone's music, with its melodic warmth and emotional expressiveness, has long felt like a portal into Cutler's subconscious – each individual track seems to enshrine a particular mood at the moment it's written.
To further celebrate the mood of Lone's tracks, famed album designer Konx-om-Pax, began creating stunning live visuals to complement Lone's sonic sketches. In May 2014, London crowds saw the debut of their collaborative live a/v show, which has since toured worldwide, including stops in Russia and the US.
We are happy to announce that Konx-om-Pax will be adding his creatively curated visuals to the Lone Asian tour, something we believe will blow your collective minds. As an extra special treat, audiences in China will also get to hear Konx-om-Pax's – he will support Lone from behind the decks as well.
As 2014 slips into winter, we are happy to offer our strongest Wooozy Offline to date, this time with a magnificent live show of sounds, beats, and sights that are as beautiful as they are unique.
Split Works gives you Lone featuring Konx-om-Pax, live for the very first time in China.
Wooozy Offline: Lone Live a/v Show feat. Konx-om-Pax
【BEIJING】
Date: 2014.11.14 Friday
Time: 10pm
Venue: Dada
Address: 206 Gulou Dong Dajie Dongcheng District (东城区鼓楼东大街206号B栋101室 (宝钞胡同对面))
Tickets: 80RMB (60RMB before 12am)
Guests: Microhate, Veeky
【SHANGHAI】
Date: 2014.11.15 Saturday
Time: 10pm
Venue: Arkham
Address: 1 Wulumuqi Lu, near Hengshan Lu (乌鲁木齐路1号, 近衡山路)
Price: 80RMB (60RMB before 12am)
Guests: Jackie/ Ginga / dj sleepless/
ARTIST LINKS
Video of Live Show in Moscow: boilerroom.tv/recording/lone/
Dummy Mag Interview with Lone :www.dummymag.com/features/lone-matt-cutler-interview-reality-testing-okay-i-must-be-dreaming
The Ripe Lone Review: www.theripe.tv/lone-vengeance-video/
Consequence of Sound Lone Review:consequenceofsound.net/2014/06/album-review-lone-reality-testing/
Mix Mag Lone Review: www.mixmag.net/reviews/albums/lone
Konx-om-Pax Official Website: displaycopy.net/
About Wooozy:
As an online music hub, Wooozy.cn has been covering the best and the freshest music from all around the world since 2009. Wooozy Offline started in 2014 and is more than a party, a workshop, or an event – it's a bridge connecting China's local electronic music scene with the world.
About Konx-om-Pax:
Konx-om-Pax aka Tom Scholfield has become one of the leading animators, directors and illustrators in Scotland. From running Techno and Acid nights at the legendary Club 69 in Paisley he moved to Glasgow for The Art School. In that time Tom would ignore briefs and competitions to make music promos for Jimmy Liddel, or he would undertake self initiated experiments recording classical music to cd-rs, drawing on the CD and recording patterns in how it would skip. In the past few years Tom has produced a steady series of music promo and installation work and established his own studio and label for experimental noise records ' Display Copy'. He began working with DJ and producer, Lone, in 2014.
About Beijing Wooozy Offline Special Guests:
Microhate (SWIM): Sounds from Microhate are varied as his music taste – old school, modern House/Techno, and UKG/Wonky to name a few. As a clubber himself, Microhate knows how to bring nonstop energy and avant-garde grooves to the dance floor. He earned his chops as the editorial director of the electronica music journal, DJ Mag in China.
Link: http://www.mixcloud.com/microhate/
Veeky: Always cutting edge, Veeky keeps up with trends by DJing and promoting electronica around the world – from Taipei to London. She's worked with the likes of Designer Drugs and Vicarious Bliss from Ed Banger records and has settled down for now in Beijing and Do Hits Veeky's crew of choice.
Link: https://soundcloud.com/wei-chia-wu
About Shanghai Wooozy Offline Residents:
dj sleepless: a sleepless set can be defined as indefinable, shifting sleeplessly between genres, but never forgetting the dance floor, keeping things fresh with the odd curveball.
Link: https://soundcloud.com/djsleeplesssh
Jackie: Backed by skills honed through years of practice and a whole lotta club time, Jackie always brings it, transforming crowds into a mass of sentient beings whenever he plays.