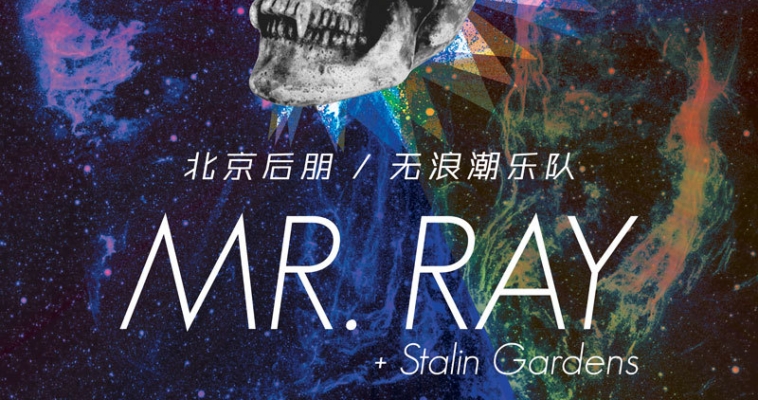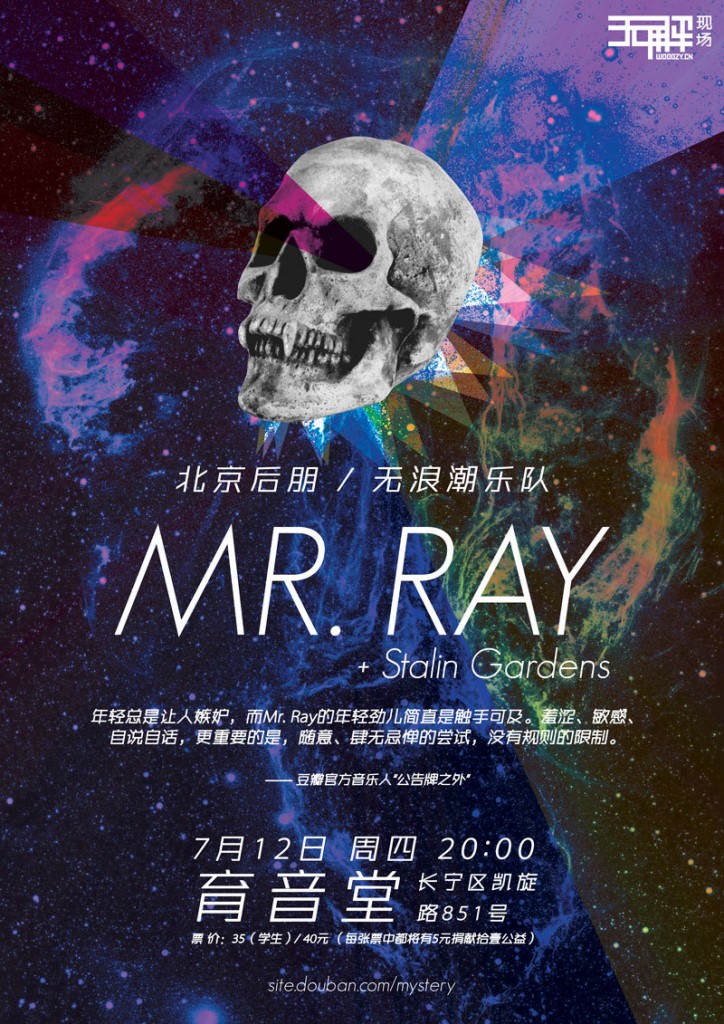 Date: July 12th 2012, Thursday @ 8PM
Venue: Yuyintang
Address: 851 Kaixuan Rd., nr. Yan'an Rd. (W)
Support: Stalin Gardens
Tickets: 35 (student) / 40 RMB
(5 RMB from each ticket will go to the charity organization Shiyi Gongyi)
Mr. Ray
Mr. Ray is a Beijing-based post-punk and no wave trio, formed by Liu Lu (vocals & guitar), Han Minkai (bass) and Qu Xing (drums) at the beginning of 2011. They are one of the first bands to grow up on stage during D-22's famed Zoomin' Night and their music is influenced by the famed no wave, post-punk and krautrock bands of the 1970s and 80s such as Pere Ubu, D.N.A., Pop Group, Joy Division, and The Birthday Party. True to the collaborative spirit of Zoomin' Night, Mr. Ray's sound is equally influenced by the other bands they shared a stage with at D-22.
The band's Douban site gives this self-description: "He likes doing nothing, she likes dreaming. I like putting the phone in the fridge." No matter what this means to you, Mr. Ray's noisy show and compelling multicultural pedigree harkens back to the best underground groups of early-1980s New York.
Wooozy Sessions
Wooozy Sessions is a monthly event brought to you by the good people at Wooozy.cn and Yuyintang. Started in July of 2011, the organisers of Wooozy Sessions invite a band from outside of Shanghai to play a show on the second Thursday of each month. This project's initiative is to provide a platform for young, emerging bands to develop their sounds and expand their musical horizons. It is specifically for those bands that can't make it to Shanghai due to financial reasons or a lack of promotion.
We hope the Wooozy Sessions can provide a gateway to the music fans in Shanghai as to what the young and creative kids in other cities have to offer.
We will be donating part of the profits after every showcase to Shiyi Gongyi, a Beijing-based charity organization that works to provide healthcare to underprivileged children.
Relevant links:
Mr. Ray: http://site.douban.com/mystery/
Shi Yi Gong Yi Charity: http://blog.sina.com.cn/u/1908237285
Wooozy: www.wooozy.cn