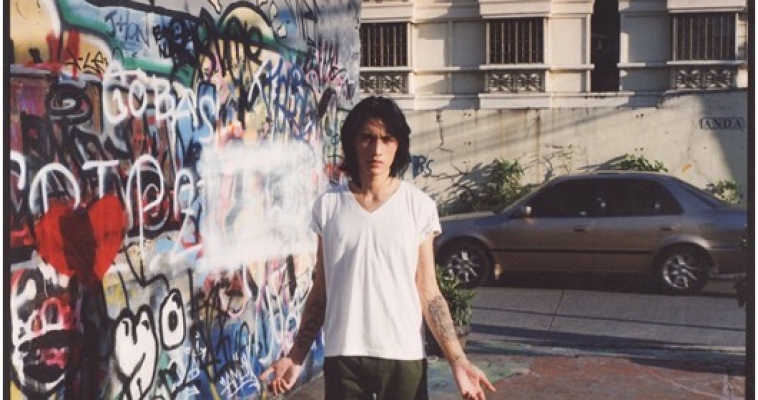 "'Everything We Touch Turns Into Gold' is the kind of track that compels you to drop your list of tasks, find the nearest travel agent and book a trip to South East Asia for a lifetime or two."
– DIY
Due to unforeseen circumstances, L.A. dance duo Nguzunguzu will unfortunately not be performing at JUE | Music + Art this year. However, Split Works is more than excited to announce that this electronic absence will be filled by the Philippines' own Idris Vicuña, otherwise known as Eyedress.
Eyedress is the solo project of Idris Vicuña, lead guitarist of Filipino lo-fi garage pop outfit, Bee Eyes. A mix of slow beats, sauntering synths, and washed out vocals, Eyedress's songs are inspired by new wave, Super Nintendo, mistrust, loss, and psychedelic drugs.
Eyedress's 2012 release Half Japanese is the kind of album that creates instant fans out of its listeners. Infectiously melancholy, from the catchy chillwave-y "Mountbatten" to moody, combative "Tokyo Ghost" each track on the debut EP demonstrates his ability to use ultra-chill beats and slurry, drowned out vocals to craft a dark, retro-futurist take on contemporary synth pop. For over 5 years now, Eyedress has made a major impact over independent music coming out of the Philippines. With his combination of glossy and shimmering synth grooves across a heavy bass laden landscape tied together with flawlessly arranged vocals, Eyedress runs the gauntlet when it comes to variations of musical style.
His new record "Hearing Colors" was released on Phantasma Disques in France, with a worldwide release expected in May 2013. We are thrilled to have him bring his unique approach to electronic to JUE | Music + Art.
Show Information:
【Beijing】
Date: Thursday March 21, 2013
Time: 11PM
Location: Dada Bar
Address: Rm. 101, Bldg. B, 206 Gulou Dongdajie
Support: Compact Dicks and TBA
Tickets: 60 RMB (Door)
【Shanghai】
Date: Friday March 22, 2013
Time: 11PM
Location: The Shelter
Address: No. 5 Yongfu Lu, nr. Fuxing Xi Lu
Support: Faded Ghost, Hamacide and Steve Lorenz
Tickets: 50 RMB (Door)
Soundcloud: https://soundcloud.com/eyedress
JUE | Music + Art: http://juefestival.com
Scorched: http://www.scorched.asia