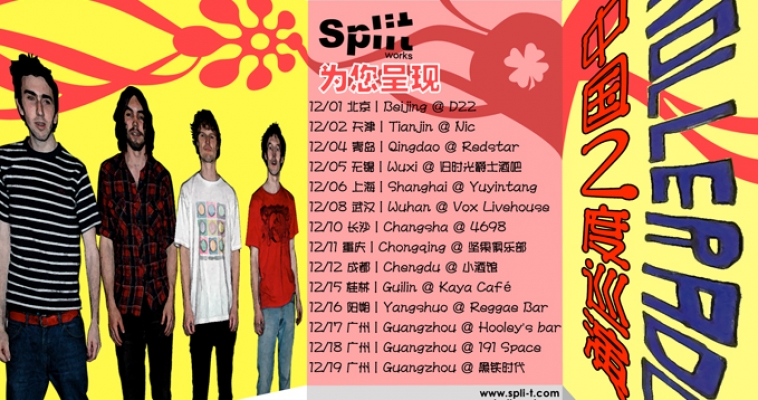 "Crazy-catchy melodies, raging hooks, and headbang-worthy guitar riffs seal the deal"  — Spin
"Low-Budget Awesome" — Entertainment Weekly
Ontario foursome Hollerado tore it up on the MIDI Fest stage last spring, and then crowdsurfed their way across China, bringing their punchy, sweaty pop-rock to Changsha, Wuhan, Shenzhen, Shanghai, Chengdu and Beijing.
Since returning to Canada, the boys of Hollerado have caught the attention of Jack white, who hand-picked the band to support his new band Dead Weather at a surprise show in Toronto in June.  Who can blame him? These guys have cracked the magic formula of creating catchy songs that stick in your head, get people to sing along and have a good time.  They package their cds in ziploc sandwich baggies with handwritten notes and extra "goodies." You can download the album (sans Ziploc) for free at www.hollerado.com or on the Wawawa music store.
Back for another, bigger, China odyssey this December: 12 cities, 19 days, lots of beer.
Check www.spli-t.com for up-to-date tour info.
Beijing
Tuesday, Dec. 1
with Candy Monster
@ D22
242 Chengfu Lu Wudaokou
010-6265-3177
Tianjin
Wednesday, Dec. 2
@ Nic Club
Heping District, Munan Dao Number 143
13702126415
Qingdao
Friday, Dec. 4
@ Redstar
100 Nanjing Lu, Chuangyi
Bldg. 100, 3rd Floor
Wuxi
Saturday, Dec. 5
@ Old Time Cafe
2 Tian He Bei Lu, Ground Floor of the Bing Hua Hotel, Tian He District
Shanghai
Sunday, Dec. 6
with Forget And Forgive
@ Yuyintang
1731 Yanan Xi Lu, near Kaixuan Lu
021-5237-8662
Wuhan
Tuesday, Dec. 8
@ Vox Livehouse
118 Lumo Rd., Guoguang Tower Bldg. B
Luxiang, Wuchang
027-5076-1020
Changsha
Thursday, Dec. 10
with Immaculate Machine
@ 4698
163 Cai-e central rd.
3rd floor Fuxin Center
138-0847-9728
Chongqing
Friday, Dec. 11
@ Nuts Club
Chongqing University Science & Technology Park, 1st floor
Shazhong Lu
Shapingba District
023-6659-3676
Chengdu
Saturday, Dec. 12
@ Little Bar
No.87/5, Fangqin Street
028-855-68552
Guilin
Tuesday, Dec. 15
@ Kaya Café
6 Zhonghua Lu
(next to Zhonghua Primary School)
0773-282-8757
Yangshuo
Wednesday, Dec. 16
@ Reggae Bar
47 Guihua Lu
0773-881-0050
Guangzhou
Thursday, Dec. 17
@ Hooley's Irish Pub
2 Tian He Bei Lu, Ground Floor of the Bing Hua Hotel, Tianhe District
Guangzhou
Friday, Dec. 18
@ 191space
191 Guangzhou Ave. (Middle)
020-8737-9375
Guangzhou
Saturday, Dec. 19
@ Iron Age Space
2F, New-Awakening Youth Club, Guangzhou University Town
020-2868-3060