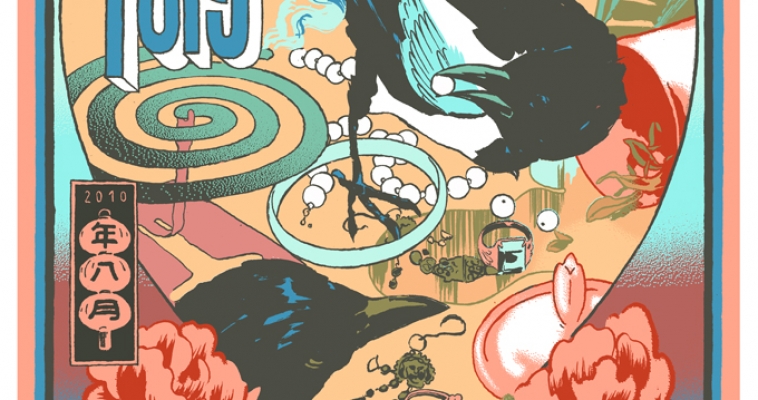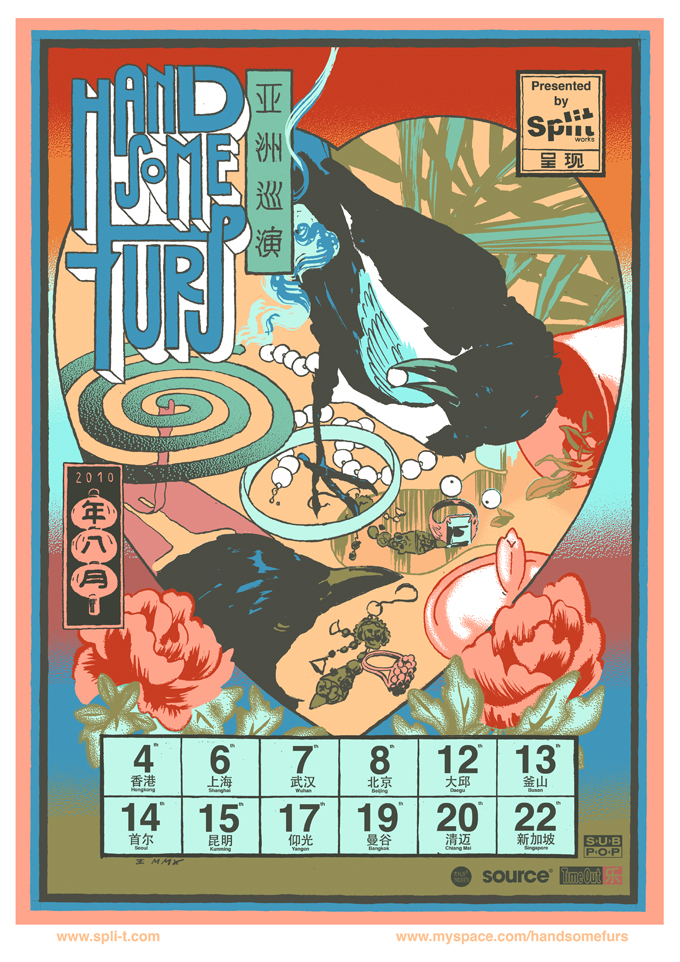 Handsome Furs Asia Tour
Event Photos (By Andy Miller; Click to Enlarge)
Split Works hearts Handsome Furs. Following their immensely successful 2009 Asia Tour, we are psyched to be welcoming them back in all their synth-punky, sweat-drippy glory. Their 2nd Asian excursion will see Wolf Parade's Dan Boeckner and his freakishly talented wife, Alexei Perry, playing in 14 (fourteen!) cities in 6 (SIX!!!) countries.
Asia Tour #1 was gloriously mental, earning rave reviews. SmartShanghai proclaimed the Furs' set at Yuyintang one of the city's best gigs of 2009. The entire tour was captured by CNN, who made it into a documentary, which you can watch here. Video of the Yuyintang show here. Who knows what'll go down during Asia Tour #2?? We're just as excited to find out as you are. Dates below!
About Handsome Furs:
It all started back in 2005, when Dan Boeckner, frontman of Canadian indie rockers Wolf Parade locked eyes with a bewitching girl in the audience during a gig in Vancouver. That girl was short-story writer Alexei Perry, and by the end of the night, the two were kissing by the merch-table. Awww.
Planning a romantic vacation around Scandinavia, the lovers had a flash of inspiration: why not form a band, and make a European tour out of it? Nevermind that Perry had no musical training save for a few childhood piano lessons. Boeckner got on the phone with his agent and booked the tour. The couple christened themselves Handsome Furs, the title of a short story Perry was working on at the time, banged out a set list of songs in a week's time, and Perry performed live on synths for the first time ever in Oslo.
Now signed to Subpop — the iconic label that helped engineer the success of bands including Nirvana, CSS and Death Cab for Cutie – the Furs released their first album, Plague Park, in 2007, and followed it up with 2009's Face Control. While the inspiration for Plague Park was taken from their travels through Scandinavia, Face Control draws heavily on their recent trip to Russia. The term "Face Control" refers to bouncers at Russian nightclubs turning customers away based on their physical appearance.
So what do they sound like? Think "a synth-pop pep rally for the damned" (according to Blender). Boeckner's well-honed guitar steez and haunting vocals and Perry's beats combine to form sounds that are stripped-down yet complex, and straddles a line between crest-fallen and optimistic; at once bleak and soulful. Kinda like marriage.
Hong Kong – Wed. August 4th
Presented by The People's Party
@ ROCKSCHOOL
Door time: 8 pm
Address: 2/f, 21-25 Luard Rd, Wan Chai
Price: 200HKD (door) / 150HKD (presale)
Shanghai – Fri., August 6th
@ Yuyintang
Door time: 9 pm
Address: 851 Kaixuan Lu, near Yan'an Xi Lu
Price: 120RMB (door) / 80RMB (presale)
Guest: Duck Fight Goose, Pairs
Wuhan – Sat., August 7th
@ VOX Livehouse
Door time: 9 pm
Address: 118 Lumo Lu,  Lumo Rd, Hongshan District, Wuchang
Price: 50RMB (door) / 40RMB (presale)
Guest: AV Akubo
Beijing – Sun., August 8th
@ 2 Kolegas
Door time: 9 pm
Address: 21 Liangmaqiao Lu, Inside the Drive In Cinema, Chaoyang District
Price: 120RMB (door) / 80RMB (presale)
Tianjin – Tues., August 10th
@ 13 Club
Door time: 8 pm
Address: 3/F, 58 Ziyou Rd., Hebei district
Price: 30 RMB (door)
Daegu – Thu., August 12th
Busan – Fri., August 13th
Seoul – Sat., August 14th
Bangkok – Thu., August 19th
Chiang Mai – Fri., August 20th
Singapore – Sun., August 22nd