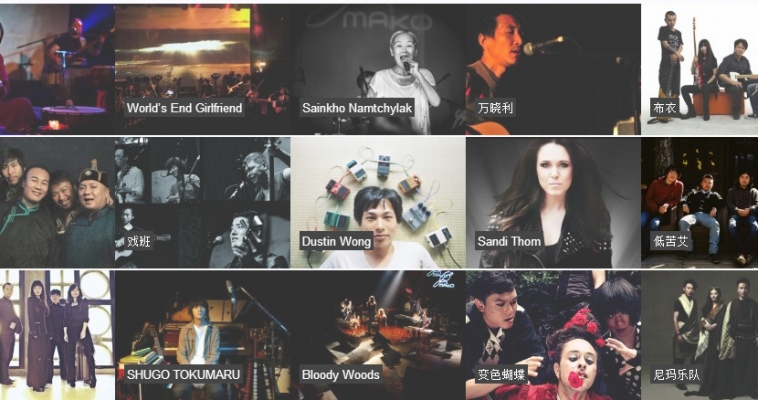 GUINNESS® MORE Music, the iconic stout brand's initiative to spearhead China's emerging contemporary music scene, will hit new heights from Nov 1st to 3rd with the GUINNESS®Wood+Wires Festival in QianShuiWan Center in Shanghai.
GUINNESS® Wood+Wires Music Festival
Date: November 1st – 3rd, 2013
Venue: QSW Culture Center
Address: No. 179 Yichang Road near Jiangning Road
Headlining a diverse and exciting lineup of Chinese and international independent musicians is 2013 China idol runner up Yunggiema, popular for her renditions of the Menba minority's traditional songs; Japan's master of the post-rock opera, World's End Girlfriend; and Sainkho, Tuva's most renowned throat singer.
Held at the grand riverside creative center QianShuiWan, the GUINNESS® Wood+Wires Music Festival will be a weekend-long celebration of great music, great food and simply the greatest beer. An eclectic mix of music acts will be taking the house down simultaneously on three stages across the multi-level venue.
Full Line-up:
* Daily capacity limited to 1,500

► November 1st, 18:30 – 22:30 
Opening Concert for Wood+Wires Music Festival, food marketing, awesome kids club and Uptown Market not included!
【WOOD STAGE】
19:30-20:15 Shugo Tokumaru(JPN)
20:45-21:45 Yunggiema 央吉玛
**************************************************************************
► November 2nd, 14:00 – 04:15
【WOOD STAGE】
15:30-16:15   Bloody Woods
16:45-17:30   Sandi Thom(UK)
18:15-19:00   Xiban戏班
19:15-20:00   品欢相声
20:30-21:15   Buyi 布衣乐队
21:45-23:00   World's End Girlfriend 世界末日女朋友(JPN)
✖ Afterhours party, 22:30 – 04:15 
23:15-23:45   Downstate(UK)
23:45-0:15     ChaCha
0:15-1:15       Kingdom(US)
1:15-2:15       Emika(UK)
2:15-3:15       Ikonika(UK)
3:15-4:15       Objekt(UK)
【WIRE STAGE】
15:15-15:45   Hutong Yellow Weasels 胡同黄鼠狼
15:45-16:15   Michael Ismerio // Square Dance
16:30-17:15   Low Wormwood 低苦艾
17:15-17:45   Kick The Gong Around // Swing Dance Class 爵士摇摆舞课程
17:45-18:30   Dustin Wong(US / 美国)
19:00-19:45   Witch Hats(AUS / 澳大利亚)
20:15-21:00   Proximity Butterfly 变色蝴蝶
21:15-22:00   Mesak ft Claws Costeau(FIN / 芬兰)
**************************************************************************
► November 3rd, 14:00 – 23:30
【WOOD STAGE】
15:30-16:15   The Horde 民谣部落
16:45-17:30   Randy Abel Stable
18:00-18:45   Wan Xiaoli 万晓利
19:00-19:45   Kick The Gong Around // Swing Dance Class
20:15-21:15   Sainkho Namtchylak (TUVA)
21:45-22:45   Hanggai 杭盖
22:45-23:30   Kick The Gong Around // Swing Dance Class
【WIRE STAGE】
15:45-16:30   Neemah 尼玛乐队
17:00-17:45   Song Yuzhe 宋雨喆
18:15-19:00   Soundscape
19:30-20:15   Spice 香料
20:45-21:45   Cold Fairyland 冷酷仙境
**Lineup for outdoor stage to be announced!
Ticketing INFO:
【Pre-sale price】
1-Day pass: ¥120 (Friday, Saturday or Sunday)
2-Day pass: ¥200(Saturday + Sunday)
3-Day pass: ¥300 (Friday + Saturday + Sunday)
* Pre-sales end on 10AM, Oct. 31st, 2013
Presale link: http://www.moremusic.cn/festival/?page_id=170

【Door price】
Day pass: ¥160
Afterhours party (Saturday night from 22:30): ¥80
Notice: 
*  2-Day & 3-Day passes are limited to be used by only one person 
*  Afterhours party on Saturday night included only in Saturday 1-Day passes and 2-Day/3-Day Passes
*  All tickets come with a free Guinness Original (per day)
*  Free entry for kids under 1.2m
GUINNESS® should be enjoyed at MORE Music events, and any other occasion, responsibly.
For more information, please visit www.moremusic.cn or www.weibo.com/moremusic
About Guinness:
Originating in 1759 in Arthur Guinness's brewery at St. James's Gate, Dublin, the popular Irish dry stout GUINNESS® has become one of world's most successful beers. Guinness today falls under Diageo PLC, one of the largest beverage companies in the world, after a merger with Grand Metropolitan in 1997.
While consolidating its appeal in Ireland and Great Britain, supplying more than 10% of the total UK beer market, Guinness increased its presence in overseas markets rapidly. In 1959, the brand expanded in Asia after its 200th birthday in 1959, coming to greater China in 1979 with the formation of GUINNESS® Hong Kong, and celebrating the launch of GUINNESS® Original, a bottled product, in Shanghai in 2012. Now Guinness products are available in over 160 countries around the world.
About Split Works:
Split Works is China's biggest independent promoter, owner of 3 music festivals and organizer of over 500 Chinese tours to 30 different cities since the company was founded in 2006.