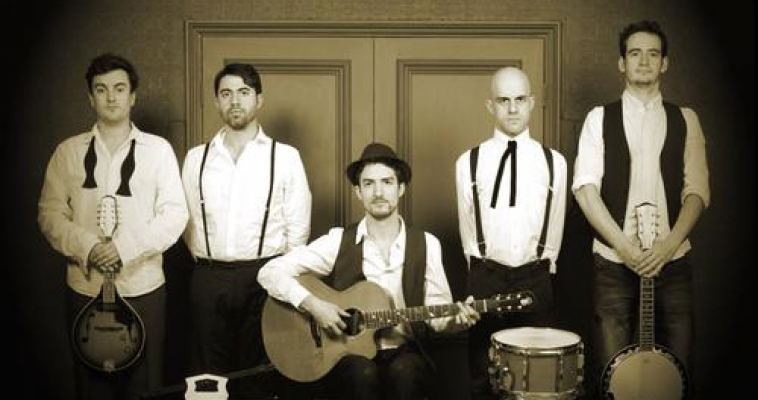 Split Works is more than excited to announce that accomplished singer/songwriter Frank Turner and his band The Sleeping Souls will perform in China at the 5th edition of the JUE Music + Art Festival. His visit in 2013 will mark Turner's second time, after his phenomenal first tour in March of 2010.
Turner as a musician has experienced vast amounts depth and change in his short, yet accomplished, career. In the early 2000's, he started to gain recognition as the lead singer of the English post-hardcore outfit Million Dead. Although short lived, Million Dead helped propel Turner the recognition of the punk music community, and critics took note of the passionate resonance and fury with which he sings. This passion was soon expressed in his solo recordings. In a short span of 5 years, Turner has released 4 full-length albums, 3 EPs, and 2 albums of compilations and rarities as a solo artist.
His most recent album, England Keep My Bones, is his most commercially and critically successful to date, and a true testament to Turner's abilities as a songwriter. An album that explores the concept of English identity, Turner's lyrics reach a very personal and emotive level, but maintains the raucous punk aesthetic from which he is rooted. The album was on many critics' top album lists of 2011, including Paste Magazine and NME. It eventually led to a near completely sold out tour of the UK, including a packed house at Wembley Arena.
Frank Turner and The sleeping souls-Four Simple Words
Turner's most celebrated career accomplishment, however, is performing on live television for the opening ceremony of the London 2012 Summer Olympics. Handpicked by the ceremony's artist director Danny Boyle, Turner played two songs to an audience of 200,000 in attendance, and millions of viewers across the world. Not bad for a punk rocker.
Turner's latest album, Tape Deck Heart, is scheduled for release in April 2013. We are Split Works are ecstatic to have him perform during JUE | Music + Art.
Show Information:
【Beijing】
Date: Friday, March 22, 2013
Time: 9PM
Location: MAO Livehouse
Address: 111 Gulou Dongdajie
Support: Contraplans
Tickets: 120 RMB (Presale) / 150 RMB (Door)
【Shanghai】
Date: Saturday, March 23, 2013
Time: 9PM
Location: MAO Livehouse
Address: 3/F, No. 308 Chongqing Nan Lu, nr. Jianguo Zhong Lu
Support: Give Band
Tickets: 120 RMB (Presale) / 150 RMB (Door)
Ticketing Information: www.juefestival.com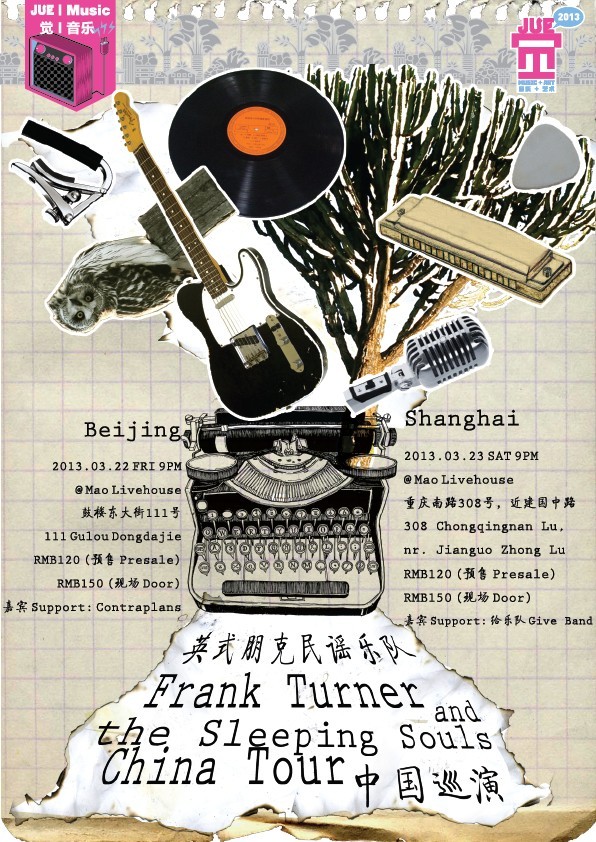 ——————————————————————————————————————————————
What is JUE | Music + Art Festival?
觉 / JUE (pronounced joo-eh) –verb: to sense; to awaken. JUE | Music + Art is an annual open-source arts and music festival in both Shanghai and Beijing, presented by Split Works. Now in its fifth year, JUE is all about celebrating the best of the local creative communities in these two great cities and inviting artists from around the world to showcase their talent in China. JUE is a collaborative, open-source affair. Each individual event organizer is entitled to set their own entrance fee and to keep 100% of the proceeds. JUE is growing tremendously year-on-year. The 2012 festival drew over 39,000 attendees to 88 events! But we always strive to maintain a strong sense of community, an intimate vibe, and a top-tier selection of artists and events.
Links: