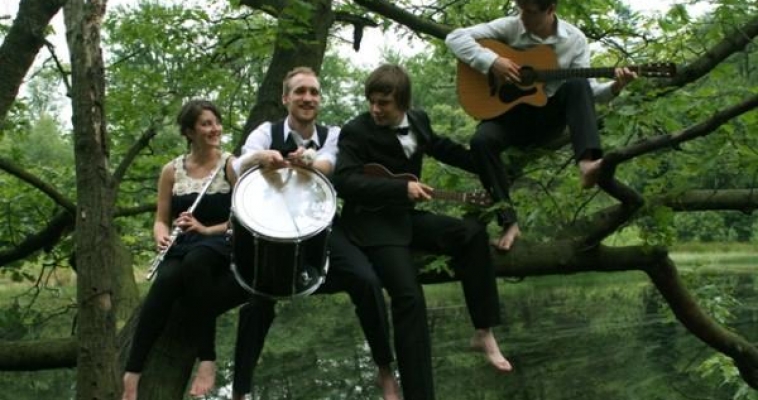 Jue | Music + Art 2011 presents
Bewitching orchestral dream-pop  The Black Atlantic

Event Photos (by Sid Gulinck;Click to enlarge)
[flickr album=72157626370719542 num=5 size=Thumbnail]
Beijing, Mar 23, Wed
@ MAO Livehouse
Door Time: 20:00
Address: 111 Gulou Dong Street, Dongcheng District
Support: Wu Zhuoling
Price: 50 RMB(door)
Tel: 010-64025080
Check www.juefestival.com for ticketing info
*************************************************
Shanghai, Mar 27, Sun
@ Yuyintang
Door Time: 19:30
Address: 851 Kaixuan Lu, by Yan'an Xi Lu, Chang Ning District
Support: Rainbow Danger Club
Price: 50 RMB(door)
Tel: 021-64457663
Check www.juefestival.com for ticketing info
=====================================
Mysterious Orchestal Dream-Pop: for fans of Fleet Foxes, Bon Iver, Beach Boys
The Black Atlantic is the Groningen (The Netherlands) based acoustic pop band formed around singer and songwriter Geert van der Velde, former frontman for American metalcore group Shai Hulud. The Black Atlantic released their debut album "Reverence for Fallen Trees " digitally for free (worldwide) on August 21st, 2009. It has since been downloaded over 100,000 times via various torrent websites , the band's own website and it's label Beep! Beep! Back up the Truck.
The Black Atlantic made its first live appearance, in one of many incarnations, at Eurosonic 2007. Since then the band has maintained a steady diet of touring with a revolving line-up around van der Velde (and for the past 2 years Janssen), sharing the stage with bands including Midlake, Woven Hand, The Tallest Man on Earth, The Cave Singers (Split Works friends from way back) and The Antlers (who also appear on "Reverence for Fallen Trees").
The band has played Filters Culture Collide Festival in Los Angeles, CMJ Music Marathon in New York City, NXNE in Toronto, and SXSW in Austin, TX, one of the world's largest music festivals. The Black Atlantic has been invited back to play SXSW in 2011.