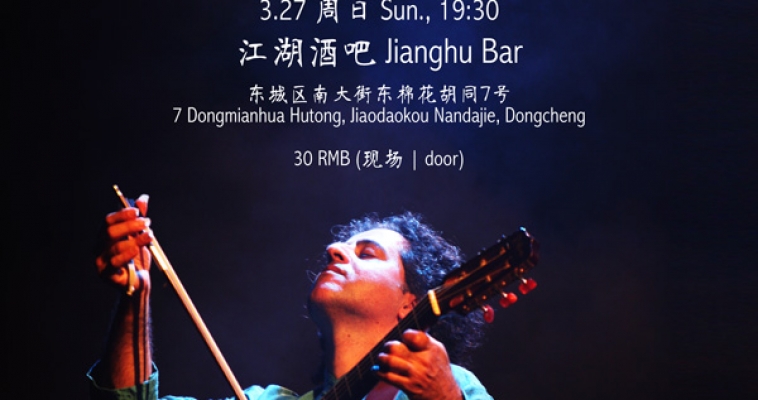 Jue | Music + Art 2011 presents
World music musician Abaji Beijing show
The sounds of Beirut, via Paris, Capetown, Casablanca…This man owns over 250 instruments. No joke.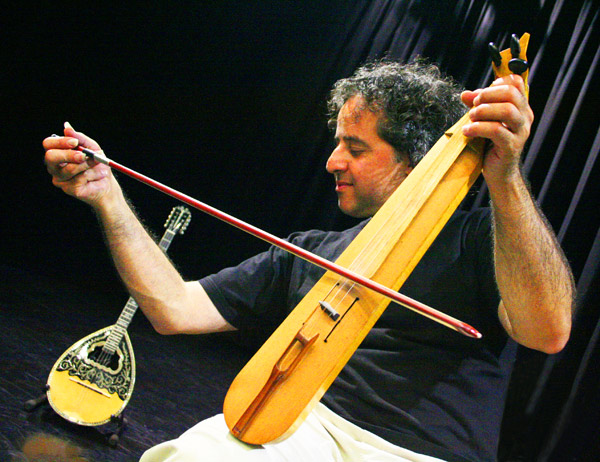 Event photos (by beijingdazed.com ; Click to enlarge)
[flickr album=72157626405452711 num=5 size=Thumbnail]
Mar 27, Sun
@ Jianghu Bar
Door TIme: 19:30
Address: No.7 Dongmianhua Hutong, Jiaodaokou Nandajie, Dongcheng District
Support Act: TBD
30 RMB(door)
Tel: 010-64014611
Check out www.juefestival.com for more ticket info
=============================================
The Paris-based multi-instrumentalist and singer Abaji was born in Lebanon to an Armenian-Greek father and Armenian-Syrian mother, both of whom were born in Turkey.
Coming from a musical family, Abaji took up the guitar at age 11, followed by other instruments: clarinet, drums, oud, bouzouki and flutes acquired on his travels around the world. He put these varied instruments to use in unconventional ways, developing a sound that fused his musical passions: Indian music, Oriental music, and blues. Today, he is something of a musical hoarder, estimating that he owns over 250 musical instruments.
In 1976, Abaji arrived in France just after the Lebanese Civil War began. He showed a passion for traditional Chinese medicine. At the Medical University in Paris, Abaji pursued his interest in traditional Chinese medicine. He subsequently became a therapist, practising Tai Chi in psychiatric hospitals for seven years.
But Abaji continued to pursue his love of music, releasing his first album, "Paris-Beyrouth" in 1996. The album included songs sung in French, Arabic and English.
The song "Gibran" from his 2000 album "Bedouin Blues" was discovered by the German world music label Network Medien, beginning Abaji's collaboration with the label for the next five years, during which he released the albums "Oriental Voyage" (2003) and "Nomad Spirit" (2005), which featured Armenian duduk player Djivan Gasparyan, Indian percussionist Ramesh Shotham and Moroccan musician Majid Bekkas.
Abaji has travelled searching for new musical inspirations to visit with the Zulus of South Africa, the Gnawas of Morocco and the Kawwali of Pakistan.
In 2009, Abaji performed in his native Lebanon for the first time, after 33 years of exile. That same year, he released his latest album, "Origine Orients," which features singing in the five languages of his family: French, Arabic, Greek, Turkish and Armenian.