One of the most consistently adored guitar bands of the past decade" – NME

Hey Scenesters. Hey, hey scenesters!
After a raucous, joyous outing at Concrete & Grass 2016, the New Fellas are coming back to the mainland, bringing with them their delirious, delicious indie punk greatness, and some of music's greatest sing-along choruses.Four-city tour: they're going deep.
Things You Should Be Knowing: It's been long established that the Cribs are criminally misunderstood and massively underrated, despite a huge global fanbase and headlining slots at major festivals.  Over seven albums, they've become nothing less than theUK's cult indie rock godfathers.The patron saints of power pop, writing timeless, brilliant, roaring songs.
"The Velvet Underground never sold that many albums,"The Independent once wrote,"but everyone who did went on to start a band. The Cribs are that sort of band."
Come on down and get caught up. Tuesday 8th May – Chengdu (NU SPACE). Thursday 10thMay  – Wuhan (VOX). Friday 11thMay – Shanghai (Modernsky Lab) and Sunday 13th May – Beijing (YugongYishan). 150RMB presale for CD/WH. 180 RMB at BJ/SH.
It's a Simple Story. The Cribs arrived on the scene in 2003 with a DIY, never-say-die attitude and they've not let up since, literally bleeding for the cause at some of the most chaotic and thrilling gigs of the past decade.
10 years in, and they're incapable of making a bad album. Ask a Cribs fan what their best record is and prepare to argue into the night. From the jangly power pop of Men's Needs, Women's Needs, Whatever to the full-blown fuzziness of In the Belly of the Brazen Bull.
24/7 RockStar Shit, their seventh full-length, was recorded with Steve Albini, and represents a return to their scrappy punk roots after 2015's (just-as-good)For All My Sisters, with had a glossy pop sheen.
The brothers Jarmanare one of the most energetic and passionate groups in British music, with the no-frills attitude and punk-rock ethos to match. Their integrity and spontaneity has been a shining beacon of hope in a hyper-commercial industry. A sign, if more were needed, that these three were special:
"We never wanted to be rock stars – that was always the anathema and it were never a virtue to be like that. The people that wanted to be rock stars were always the ones you laughed at. We have always believed in sincerity, humility and being honest."
There's going to be big choruses, hand waves and screams for more. Morse-code guitar riffs, new-wave drumbeats and thick-accented shout-speak. Some of the most memorable lyrics in indie-punk history.
We can't wait. First Concrete & Grass warmup gig this year. The Cribs are back in China.
Concrete & Grass Presents: The Cribs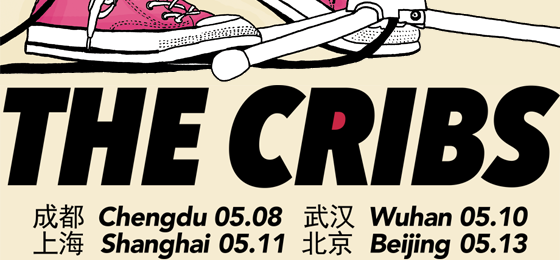 【CHENGDU】
Date and Time: Tuesday, May 8, 8:30pm
Venue: NU SPACE 明堂创意工作区
Address: 9 Kuixinglou St, Mingtang Creative Center 奎星楼街9号明堂创意工作区B区
Support: Hiperson 海朋森
Tickets: 150 RMB (PRE-SALE) / 180 RMB (DOOR)
Pre-sale Link:https://weidian.com/item.html?itemID=2260848456
【WUHAN】
Date and Time: Thursday, May 10, 8:30pm
Venue: VOX Wuchang
Address: 118 Lumo Lu, Guoguang Tower Bldg- 1F 武昌洪山区武昌鲁磨路118号国光大厦一层
Support: Panic Worm 驚蟲乐队
Tickets: 150 RMB (PRE-SALE) / 180 RMB (DOOR)
Pre-sales Link: https://www.showstart.com/event/50422

【SHANGHAI】
Date and Time: Friday, May 11, 8:30pm
Venue: Modernsky Lab
Address: 3/F, 188 Ruihong Lu, near Tianhong Lu 瑞虹路188号3楼, 近天虹路
Support: Dirty Fingers
Tickets: SOLD OUT!

【BEIJING】
Date and Time: Sunday, May 13, 8:30pm
Venue: YugongYishan 愚公移山
Address: 3-2 Zhangzizhong Lu 张自忠路3-2号
Support: The Twenties
Tickets: SOLD OUT!
Links
Split Works official website:www.spli-t.com
The Cribs Official Website: www.cribs.com
The Cribs at Reading Festival: https://www.youtube.com/watch?v=W5W_pof9mRk
About Concrete & Grass:
Concrete & Grass is China's grooviest music festival. It happens in September each year, when the weather is warm and frequently perfect. It's Shanghai's own #APlaceLessOrdinary –  chock-full of great bands, weird art, strange creatures and fun distractions. Our venue, the wonderful Shanghai Rugby Football Club, is a lovingly intimate space with lush fields of real grass. We started in 2015 as Echo Park, with Gerard Way, Young Fathers, Swim Deep, and Nova Heart on the bill. 2016 saw Edison Chen, Sekai No Owari, and A$APFerg. 2017 had RADWIMPS, Princess Nokia and DIIV at the party. 2018's looking pretty ace.
About Split Works:
Split Works has been rocking in the free (ish) world since 2006. Working with inspirational artists from across the globe, the good people at Split Works HQ have been a key contributor to the continued rise of China's music scene.Split Works has launched five music festivals and promoted over 400 tours to 30 Chinese cities, always striving to stay true to a familiar refrain: the music has to be special, every single time. From Godspeed You! Black Emperor to Sonic Youth, from Thee Oh Sees to Mac Demarco and Cloud Nothings, from Black Rabbit to JUE and Wooozy to Concrete & Grass. We love music, we love China and we love you.