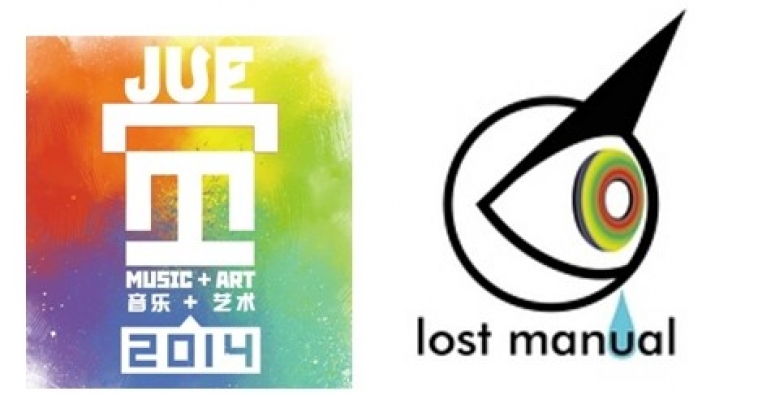 Hangzhou New Noise is a platform that showcases Hangzhou's local creative talent, including everything from music to theatre, art, literature and design. The initiative was first conceived in Beijing back in 1997. Beijing New Noise helped to bring together a bundle of local musicians, who eventually laid the foundation of what is now the center of the country's music scene. In 2007 Post-Beijing New Noise hosted another musical pilgrimage re-affirming Beijing's position as the hub of China's edgiest musical movements (though other cities now are certainly competing).
Hangzhou New Noise has been in the works for a while: it's now time for this beautiful city to start making some noises! Beyond West Lake (Xihu) Music Festival (西湖音樂節) there is a whole generation of new musicians and artists waiting to be discovered.
香料 Spice
Like the word – which brings to mind a sensual experience that draws on aromas, flavors, fun and energy, Spice's music is possessed with an erratic psychedelic energy that invigorates listeners, bringing them to life. Each of the band members brings a bold and distinctive skillset to the table. Chen ChenChen (陈陈陈) an experimental electronic musician and guitar virtuoso creates the musical motives, Little Drummer (鼓手小) shapes the musical framework of the music by drawing on his sound engineering expertise, and Yī Lái – a professional studio musician – rounds the trio off. Brace yourselves for a new breed of post-rock that draws on math rock, dance music, and shoegazing vibes.
偷喜办 Toshing Band (Stolen Joy)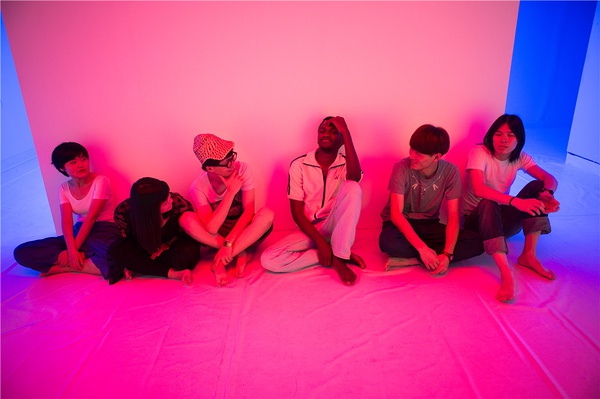 Following on the heels of Spice, this six-piece will be bringing an interesting combination of indie/folk/post-rock to the stage. They've been going since 2012 and have played a number of iconic Chinese festivals including Shanghai Strawberry Festival 2013. Look out for their new E.P. in 2014!
Mabonona
Founded in 2007, Mabonona draws from industrial, experimental, electronic and EBM (that's electronic body music) influences to create the metallic clashes and mechanical movements that characterize the act's sound. The songs are dark, contemplating isolation, oppression, power, and anger through themes such as world order, war and violence.
SHOW INFORMATION:
【Shanghai】
Date: Friday March 7th, 2014
Time: 8:30PM
Venue: On Stage
Location: A2-101, Red Town, 570 Huaihai Xi Lu, near Hongqiao Lu, Xuhui district
Support: iron cream
Ticket: RMB40 (student) 50 (Door)
Show Hashtag: #JUE2014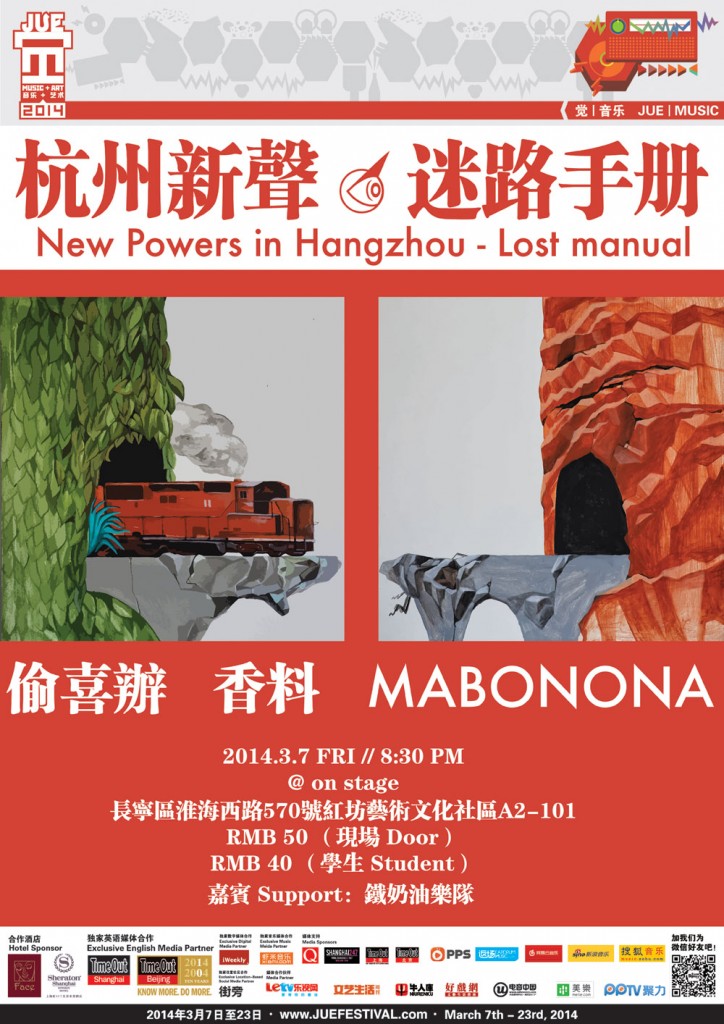 About Lost Manual:
Lost Manual is a Hangzhou-based indie music and art label, founded by Spice front man ChenChenChen (陈陈陈) and band manager Xiaofen (小粉). The label draws on indie culture, including music, theatre, art, literature and design. The Label also owns a professional recording studio and a photo studio. Lost Manual hosts a regular series of events including Shaving Blade Music festival (刮刀音乐节) and Don't Want Mandarins Original Music Party (不要橘子原创音乐对) which each showcase the city's local talent.
About JUE | Music + Art Festival:
觉 / JUE (pronounced joo-eh) –verb: to sense; to awaken.
JUE | Music + Art is an annual urban festival that embraces the whole of Beijing and Shanghai. Celebrating its 6th year in 2014, JUE is all about showcasing the best of the local creative communities in these two great cities, as well as inviting artists from around the world to share their talent with China. We're all about community, doing everything we can to set an intimate vibe, and to carefully weave every one of our artists and events into a multidisciplinary masterpiece. Dates: 7th – 23rd March