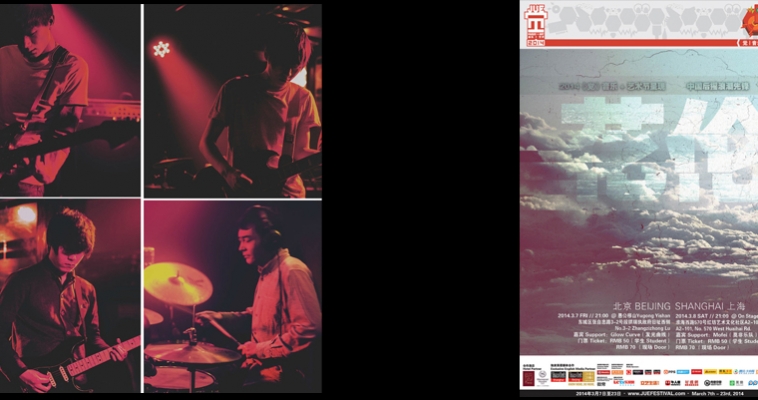 Hua Lun (花伦) is a Chinese band that started in Wuhan as a Britpop influenced band in 2004. The band's early interests slowly changed, resulting in a drastic shift to the howling wall of Post-Rock noise that has characterized their sound since late 2006. They have toured the east coast extensively and have received widespread attention and public recognition. They finally released their highly anticipated debut album, Silver Daydream, in early 2008. This release established Hualun as the pioneers of the new wave of Post-Rock that has since crept across China. For their second album, Asian River in 2010, they moved to the Modern Sky label. After three years of relative inactivity, the band – having overcome various personal set-backs and changes to the lineup – find themselves revived, and ready to bring to the crowd the same visceral passion that got them started way back in their early days.
Current Members:
Ding Mao – Guitars
Zhu Mingkang – Guitars
Liu Jia – Bass
Li Jing – Drums
SHOW INFORMATION:
[CANCELLED]

【Beijing】
Friday, March 7th, 2014
Time: 9:00 PM
Venue: Yugong Yishan
Address: 3-2 Zhangzizhong Lu, Dongcheng district
Ticket Price: 50 RMB (Students) / 70 RMB (Door)
Support: Glow Curve (发光曲线)
【Shanghai】
Saturday, March 8th, 2014
Time: 9:00 PM
Venue: On Stage
Address: A2-101, Red Town, 570 Huaihai Xi Lu, near Hongqiao Lu, Xuhui district
Ticket Price: 50 RMB (Students) / 70 RMB (Door)
Support: Mofei (莫非乐队)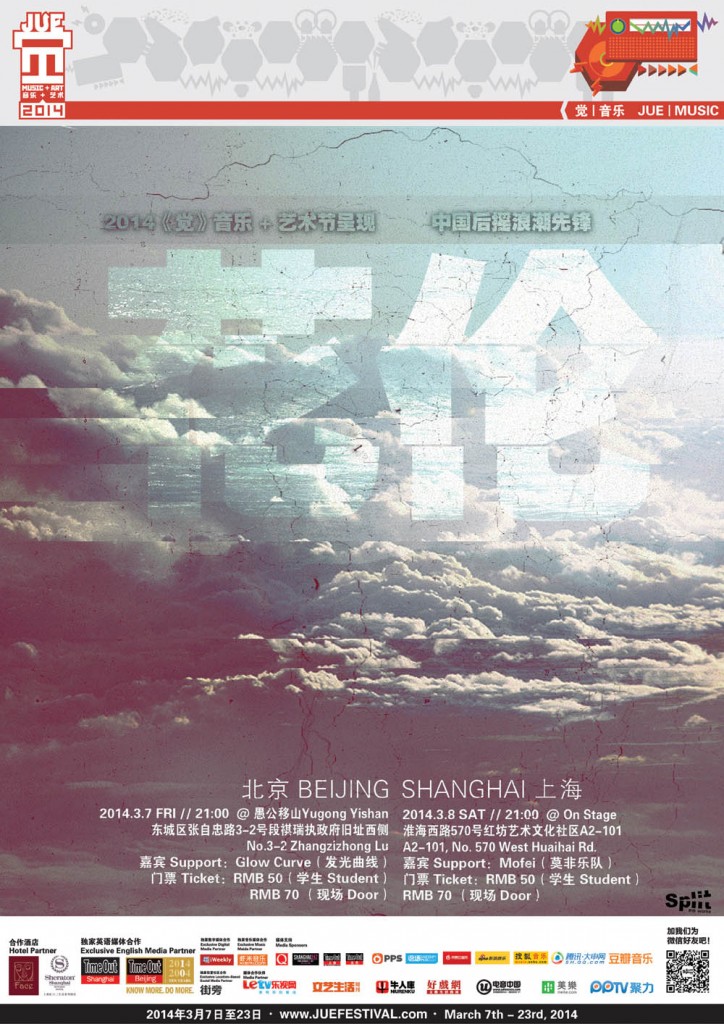 Links:
http://www.hualun.org
http://hualun.bandcamp.com
What is JUE?
JUE | Music + Art《觉》音乐+艺术节 is an annual urban festival that embraces the whole of Beijing and Shanghai. Celebrating its 6th year in 2014, JUE is all about showcasing the best of the local creative communities in these two great cities, as well as inviting artists from around the world to share their talent with China. We're all about community, doing everything we can to set an intimate vibe, and to carefully weave every one of our artists and events into a multidisciplinary masterpiece.
JUE: 2 Cities, 1 community united through the arts.