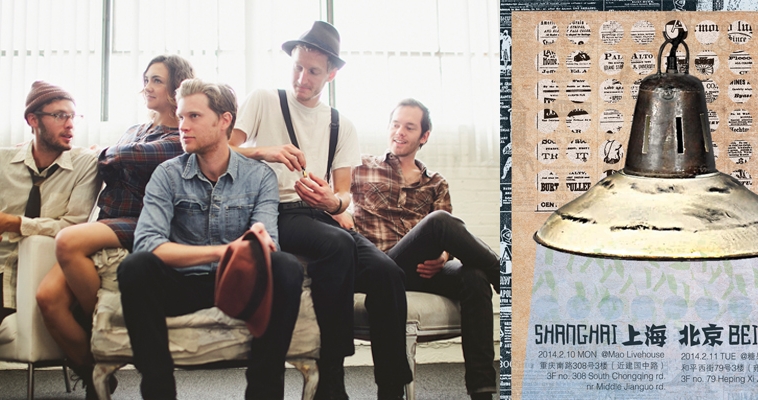 The roots revival of the last few years has primed listeners for a new generation of rustic, heart-on-the sleeve music—the kind that nods to tradition while setting off into uncharted territory. The Lumineers walk that line, and for the first time will be bringing their timeless melodies and soul-stirring lyrics to China.
Growing up in the New York City suburb of Ramsey, New Jersey, Wesley Schultz spent his childhood days drawing side by side with his best friend, Josh Fraites. Today, as bandleader of The Lumineers, Wesley's replaced his pencil with a guitar, his drawings with songs, and plays side by side with Joshua's younger brother Jeremiah. Joined later by Neyla Pekarek who softened Wes and Jer's rough edges, The Lumineers sound took shape; an amalgam of heart-swelling stomp-and-clap acoustic rock, classic pop, and front-porch folk.
In 2011, an eponymous, self-recorded EP led to a self-booked tour, and before long The Lumineers started attracting devout fans, first across the Western US, then back in their old East Coast stomping grounds. Young, old and in-between, they're drawn by songs like "Ho Hey" and "Stubborn Love," Americana-inflected barnburners in the vein of the Avett Brothers and Mumford & Sons. They're drawn by songs like "Slow it Down" and "Dead Sea," slow, sultry ballads that suggest the raw revelations of Jeff Buckley and Ryan Adams. They're drawn by the live Lumineers experience—a coming-together in musical solidarity against isolation, adversity, and despair.
The Lumineers – Ho Hey
[vsw id="http://player.youku.com/player.php/sid/XNDQ5NzM2NzY4/v.swf" source="youku" width="425″ height="344″ autoplay="no"]
SHOW INFORMATION:
【Shanghai】 
Date: Monday, Feb 10th, 2014
Door Time: 20:00
Venue: Mao Livehouse
Address: 3/F, No. 308 Chongqing Nan Lu, nr. Jianguo Zhong Lu
Tickets: 200 RMB (Presale) / 260 RMB (Door)
* Pre-sale tickets are Sold Out! ONLY 100 tickets left on the door! The Lumineers China tour in Shanghai door tickets go on sale at 7pm sharp! 
【Beijing】
Date: Tuesday, Feb 11th, 2014
Door Time: 20:00
Venue: Tango 3F
Address: 3/F, No. 79 Heping Xijie (50m north of the Yonghegong Bridge)
Tickets: 200 RMB (Presale) / 260 RMB (Door)


* Pre-sales end on 23:30, Feb. 10th, 2014


Presale link: https://yoopay.cn/event/lumineersbj
Links: Artist website: http://thelumineers.com/
Facebook: https://www.facebook.com/thelumineers
Split Works: https://spli-t.com