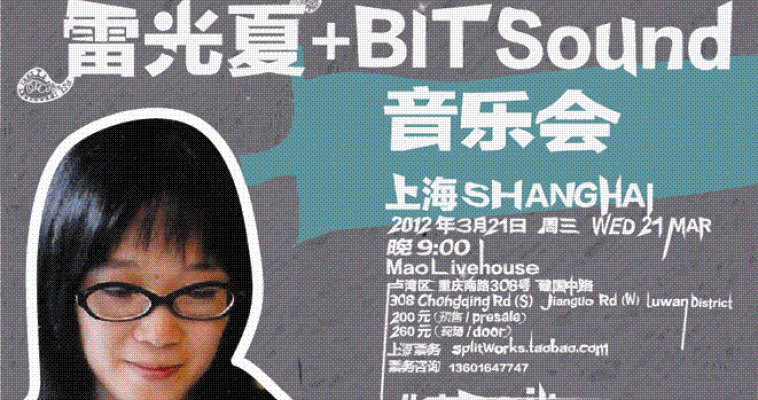 JUE | Music + Art 2012:
Taiwanese music poet Summer Lei + BIT Sound  concert
Mar 21st, Wednesday, Shanghai
MAO Livehouse
Time: 21:00
Address: NO.308 South Chong Qing Road, Lu Wan District
Ticket Price: 200 RMB (presale) / 260 RMB (Door)
Ticket Hotline: 1360 164 7747 (Mon.–Fri., 10 am–6 pm / EN & CN)
Presale tickets available online at Taobao (in Chinese): http://splitworks.taobao.com/
Ticketing Outlets:
Split Works Shanghai office (Mon-Fri, 10AM-7PM) @ 2A, 100 Fuxing Rd (W), near Yongfu Rd, Xuhui District
Kommune Café  (Mon-Sun, 7AM-1AM) @ Tianzifang, Rm 5, Lane7, 210 Taikang Rd, near Sinan Rd, Luwan
————————————————————————————————–
March 23, Friday, Beijing
Time: 9:00 PM
Venue: Yugong Yishan
Address: 3-2 Zhangzizhong Lu, Dongcheng District
Ticket Price: 200 RMB (Presale) / 260 RMB (Door)
Ticket Info Hotline: 1870 113 3908 (Mon-Fri, 10AM – 6PM; English/Chinese)
Presale tickets available from March 1
–          Taobao (in Chinese): http://splitworks.taobao.com/
–          Yugong Yishan (Mon-Sun, 5PM-12AM)
–          Crepanini (Mon-Sun, 9AM-12AM)
Address: Nali Patio Floor 1, No.81 Sanlitun Beilu, Chaoyang District.
–          NGLX Design Store(Mon-Sun, 10AM-10PM)
Address: 33 Nanluogu Xiang, Dongcheng District
——————————————————————————
Born in Taiwan, Summer Lei's father is the renowned Taiwanese writer and painter Lei Hsiang. Dubbed a "musical poet," her lyrics, music and singing carry a unique poetic feel and employ evocative and stirring imagery. Her previous releases include the solo albums I am Lei Kwang-hsia, summerplanet, secret words of time, fade away 2003, and the light of darkness and Shadow of Light DVD. Her musical accomplishments have been recognized by Taiwan's Golden Melody Awards several times. She worked with internationally acclaimed classical and jazz pianist Uri Caine on the album the light of darkness and toured with him on several occasions.
In 2010, she was won the Golden Horse Award for Best Original Film Score for the movie Taipei Exchange, the Taiwanese equivalent of an Oscar. At the 2011 Golden Melody Awards, she won Best Instrumental Album Producer for the original soundtrack album to Taipei Exchange.
Summer Lei official website: www.summerlei.com
JUE festival website: www.juefestival.com
Split Works: www.spli-t.com