Shabazz Palaces in June!
Who are Shabazz Palaces? Shabazz Palaces is the name of the mysterious hip-hop duo comprised of Ishmael 'Butterfly' Butler (of Digable Planets) and Tendai Maraire, the son of African music legend Dumisani Maraire.They are also underground Hip-Hop enthusiasts, Pitchfork enthusiasts (Best New Music, Pfork festival performers 2011), and winners of the Genius Awards from respected alternative weekly The Stranger and near-universal acclaim from the independent music press, etc. etc..
Eventually revealing themselves and signing to renowned Seattle indie label Sub Pop, Shabazz Palaces create some of the most exploratory hip-hop out there now, which is best expressed on their 2011 debut Black Up. Split Works is honored to welcome Shabazz Palaces to China!
Shabazz Palaces China Tour 2013
Shanghai // Friday,  June 28, 9PM // Yuyintang // No. 851 Kaixuan Rd., nr. Yan'an Rd. (W) // Tickets: 70 RMB (Door) / 50 RMB(Student)  //  Support: Gooooose
Beijing // Saturday, June 29, 10PM // The Bar at Migas // 6/F, Nali Patio, No. 81 Sanlitun Lu // Tickets: 50 RMB (Door) // Support: Chronmaster
—————————————————————————————————————————————–
Tour Announcement: Japandroids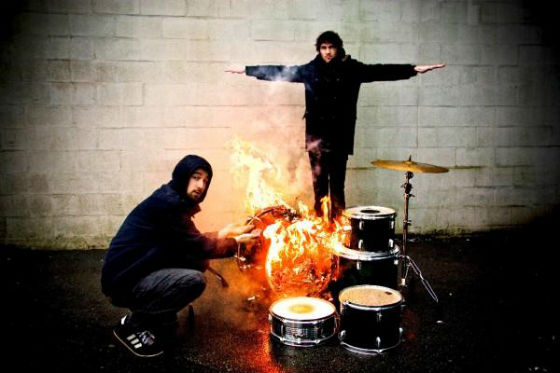 A two-piece guitar-and-drum duo formed by Brian King and David Prowse during their school days at the University of Victoria in British Columbia, Canada, Japandroidseschew the "logistical nightmare" of appointing a lead singer and instead share vocal duties. They are one guitar, one set of drums, and two vocalizers. Japandroids are maximal – a two-piece band trying to sound like it's a five-piece band. Their 'songs' run the gauntlet of rock & roll subgenres, with the boys ripping off too many different bands to sound like any other duo making music right now. This August, Split Works is delighted to welcome Japandroids to China for their first shows. Dates below // more information forthcoming.
Japandroids China Tour 2013:
Beijing // Friday August 23 // MAO Livehouse // 100RMB (Presale) / 120RMB (Door)
Shanghai // Saturday August 24 // Yuyintang // 100RMB (Presale) / 120RMB (Door)