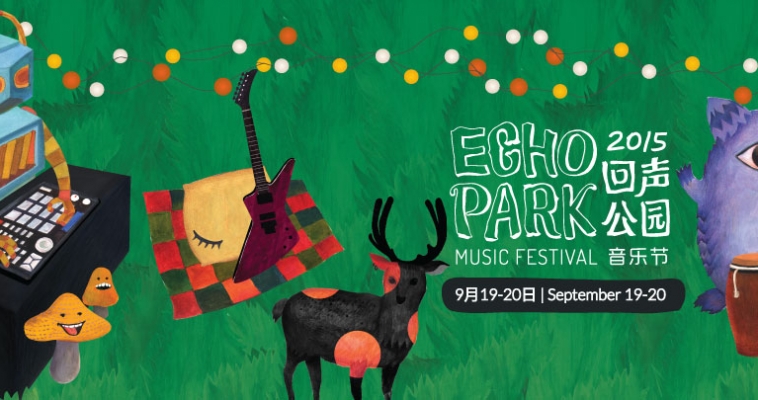 57 Artists across 4 Stages and 2 Days
Gerard Way, Kelis, B**** **** and Chase & Status to headline
#APlaceLessOrdinary
 The wait is over.
On September 19th and 20th 2015, a new festival breaks ground at the sprawling grasslands of the Shanghai Football Rugby Club.
Echo Park will feature 57 artists across 4 stages, and what we think might just be the broadest and deepest international lineup at a Chinese festival ever. We're proud and excited to present a massive spread of some of the most intoxicating artists from across the globe (and right here in China of course), to help us create a truly beautiful festival experience for those who love music and life.
Escape, play, and discover A Place Less Ordinary.
Spanning the musical rainbow, from Britpop, K-pop, funk and soul to shoegaze, electronic, folk-metal and punk, we've curated a lineup with something for everyone. We've been fiddling with stages and slots for 3 months now, so we're pretty sure you could come to the festival without knowing a single song by a single band, and still spend a magical couple of days hanging out with new music and real fans. We've got you covered!
International Acts:
Over half of our lineup is international, with artists from the United States, Canada, U.K, New Zealand, Australia, Japan, and Korea.
Headlining Echo Park, we're proud to announce the Grammy-nominated, chart-topping, futuristic R'n'B diva Kelis; electronic titans Chase & Status; and the K-pop "Fresh Prince of Seoul" Jay Park. They'll be joining Gerard Way, who'll be bringing his post-My-Chemical-Romance solo project to our Place Less Ordinary. And finally, we have two icons of hip-hop playing together, confirmed, but not yet ready to be announced…
But really, we are shooting for a post-headliner lineup in a headliner world. J  We are most proud of the depth and variety of our bill and to that end, we have punk legends Pennywise, rising indie stars Swim Deep and Beach Fossils (with E********* E********* to be announced), post-punk dabblers Nite Fields, and Canadian dance-punksters We Are Wolves. And there's more – we've got a full(ish) list at the end of this press release.
They'll be joining our first round artists Young Fathers, singer-songwriter Jeff Lang, the seminal Japanese hardcore band Envy and Korean old-school Ska Group Kingston Rudieska.
On the electronic front, Echo Park has invited Manchester's Star Slinger  (bringing you stuff you know and stuff you don't), Nick Monaco on a disco tip, grime overlord Bok Bok, Japan houser Kikorix, plus K****** and C.*. to be announced.
Hong Kong, Taiwanese and Mainland Acts:
 From Hong Kong, Taiwan and Mainland China, we have the veteran folk-rock band Sound Toy, up-and-coming talents The Fuzz from Xi'an and Stolen from Chengdu, the Inner Mongolian folk-rock of AJINAI, hip-hop from J-Fever & Soulspeak and Itsogoo, and the dark dystopian sounds of Beijing's Nova Heart. We also have critically acclaimed shoegaze from Forests and goth-rockers Murky Crows, both from Taiwan. They'll be joining Hong Kong indie darlings Chochukmo, electro-rock veterans Duck Fight Goose and one of the most talked about mainland bands at the moment, The Big Wave.
A full list of Hong Kong, Taiwanese and Mainland acts can also be found at the end of this press release.
Bringing the beats from the mainland, we have Beijing's man of the moment  Howie Lee, the tech-house of Beijing's Y*** ****, the chop-funk of Shanghai's Damacha, the experimental stylings of Laura Ingalls (wait, we thought he was dead?) and the relentless Cavia.
They will join the already announced urban soul of Guangzhou's Project Ace, the psychedelic stylings of Kunming's South Acid MiMi Dance Team and Chengdu indie darlings Mosaic.
We're super excited to be joining forces with Japan's Rainbow Disco Club for our Yurt stage, so expect mad installations and eccentric vibes.
Super Early Bird Tickets are sold out, but "Pre-sale" tickets can now be reserved online!
The early bird got the worm–Echo Park's Super Early Bird Tickets were so hot they sold out within 6 hours. Thanks to everyone who supported and trusted us, without even knowing the lineup! Now, Echo Park's pre-sale tickets can be bought online. They'll be 200 RMB/day (260 RMB door) or 300 RMB (400 RMB door)/weekend. Check out our official Echo Park Website: http://echopark.cn for more information. Due to PSB restrictions, there are a limited number of tickets, so get yours soon!
– LINEUP –

–       Gerard Way (USA)
–       Jay Park (KOR)
–       Kelis (USA)
–       B**** **** (USA)
–       Chase & Status (DJ SET) & Rage (UK)
–       Pennywise (USA)
–       Beach Fossils (USA)
–       Swim Deep (UK)
–       Sound Toy 声音玩具 (CN)
–       Envy (JPN)
–       E******** ********* (UK)
–       Young Fathers (UK)
–       Nova Heart (CN)
–       Chuchokmo 触执毛 (CN, HK)
–       N*** ******** (CN)
–       Mosaic 马赛克 (CN)
–       Project Ace (CN)
–       K******* (UK)
–       C* (US)
–       AJINAI 阿基耐 (CN)
–       Bok Bok (UK)
–       J-Fever & Soulspeak (CN)
–       Star Slinger (UK)
–       The Fuzz (CN)
–       Big Wave 大波浪 (CN)
–       Howie Lee (Live) (CN)
–       Jeff Lang (AUS)
–       We Are Wolves (CA)
–       Duck Fight Goose (CN)
–       Shocking Pinks (NZ)
–       Stolen 秘密行动 (CN)
–       Nick Monaco (live + DJ) (USA)
–       Session Victim (live) (GER)
–       Murky Crows 昏鸦 (CN, TW)
–       Nite Fields (AUS)
–       Kingston Rudeiska (KOR)
–       Magic Touch (USA)
–       Forests 森林合唱乐团 (CN, TW)
–       Y*** **** (CN)
–       ITSOGOO (CN)
–       Compa (UK)
–       Vibronics & Madu Messenger (UK)
–       South Acid Mimi Dance Team (CN)
–       Kikiorix (JPN)
–       Cavia (CN)
–       Hutong Yellow Weasels (CN)
–       Skinny Brown (CN)
–       Damacha (live (CN)
–       Miki Disconot (CN)
–       Emerald Rae (CN)
–       Allan Marshall (CN)
–       Santo Chino (CN)
–       Holy Sh!T (CN)
–       Laura Ingalls (CN)
–       MIIIA (CN)
–       Aivilox (CN)
–       Deep Ronin (CN)
Official Website: www.echopark.cn
Weibo: @echoparkCN
WeChat: EchoParkCN
Facebook/Instagram: @EchoParkCN  
Echo Park
Date: 19-20th September (Sat & Sun)
Venue: Shanghai Rugby Football Club
Address: 2700 Zhangyang Bei Road near Wuzhou Avenue, Metro station Wuzhou Avenue (Line 6, Exit 1)
Pre-sale Tickets: 200 RMB/day, 300 RMB for both days
Regular Tickets: 260 RMB/day, 400 RMB for both days
Purchase: http://en.damai.cn/event/tickets_86378/
 Or download the 'Damai' mobile app from damai.cn
About Split Works:
Split Works has been rocking in the free (ish) world since 2006. Working with inspirational artists from across the globe, the good people at Split Works HQ have been key contributors to the continued rise of China's music scene.
Split Works has launched five music festivals and promoted over 400 tours to 30 Chinese cities, always striving to stay true to a familiar refrain: the music has to be special, every single time. From Godspeed You! Black Emperor to Sonic Youth, from Thee Oh Sees to Mac Demarco and Shabazz Palaces, from Black Rabbit to JUE and Wooozy to More Music, we love music, we love China and we love you.
Split Works Official Website: https://spli-t.com
About Damai Live:
Damai Live is a new international concert promotion agency, part of Damai Entertainment, the country's biggest ticketing agency. It has the strongest resource platform in China, and leverages Damai Entertainment's robust O2O operational systems. Damai Live maintains extensive relationships with leading global promoters and live entertainment agencies, and has expertise and capacity in event planning and promotion. Damai Live organizes live performances and creates original entertainment projects, striving to offer high-quality, cutting-edge experiences for domestic audiences.
Damai Official Website:http://www.damai.cn