Bombino, Nils Frahm, and DevendraBanhart; Tickets open next week!
It's been three years since we launched the first season of Contemporale with a simple mission.
to bring contemporary music into a classical music environment, and more specifically, to present the best that global contemporary music has to offer in the storied symphony halls of the Shanghai Symphony Orchestra (SSO)?
It's a testament to the foresight of the SSO and the powerful simplicity of the idea that we are still going
In its fourth year, we feel proud to say that Contemporale is now an institution.
With 13 sold-out shows across three seasons, the series is now an inextricable part of Shanghai's annual calendar.  The 2016-17 season featured performances from acclaimed singer songwriter Jose Gonzalez, Mali blues legend Vieux FarkaToure, and composer to the stars Owen Pallett. Along the way, the series has introduced a classical audience to some of the best contemporary sounds out there, and crafted a sumptuous, rich sonic atmosphere for fans of contemporary music to watch their artists in.
And with this, our fourth season, we hope you'll agree that our vision for its future is bigger and bolder. Onwards!
Season 4 will feature three extraordinary musicians from three distinct musical cultures, with a lineage spanning different continents.  From the windswept oases of the Western Sahara to underground chamber halls in the heart of Berlin – this is Contemporale spreading its wings.
Contemporale 2017-18 Season
Bombino– Sunday 10 December 2017
Nils Frahm – Sunday 20 May 2018
DevendraBanhart – Friday 8 June 2018
*All shows will be held at the Shanghai Symphony Orchestra's downtown home, located at 1380 Middle Fuxing Road. The box office for in-person ticket purchases is also located here, and will be open 10am to 6pm on weekdays.
2017-18 Season Shows
Niger
Take a man from the Western Sahara.
Give him a mesmerizing "honey-and-sand" voice, and a virtuoso skill with the guitar.
What happens when he goes on a journey that takes him through rebellions and wars, deserts and famines, tyranny and precarity?
Out it comes: dazzling, spectacular music that rings with the stories of his nomadic Tuareg people. Songs that masterfully blend the blues, jazz, reggae, afrobeat and West African rhythms. That Bombino's music even exists is nothing short of a miracle, and to see him live is to witness the power of music in our uncertain times.
Sunday, 10 December 2017; 7:45pm
Chamber Hall 演艺厅
Tickets: 380 / 280 / 180 / 80 RMB
Ticket Link: http://shsymphony.com/item-index-id-942.html

---
Berlin
"Every space I perform in has its own magic and spirit."
Contemporary composer Nils Frahm has built a steady reputation for his intimate, poignant piano recordings, yet it's a live Nils Frahm concert that brings out what makes him special.
Frahm's heart lies in improvisation, in the magic of a moment where, inspired by the space and the audience, his fingers can create new compositions loosely based around his familiar melodies. Every Frahm concert is a singular experience: woven by the man himself around classical, jazz, minimalist, or indeed, dance music. China debut, and unmissable.
Sunday, 20 May 2018; 8:00pm
Concert Hall 主厅
Tickets: TBC
Ticket Link:http://shsymphony.com/item-index-id-931.html
---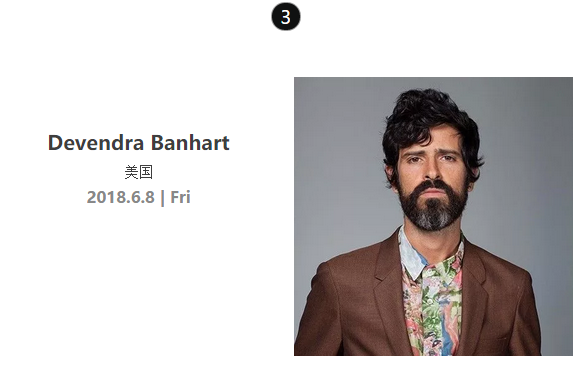 Los Angeles
The charming, witty, whimsical work of songwriter DevendraBanhart is often classified as "freak folk", but that's far too dark a descriptor for music that brims with infectious energy, hearty laughs, and bossa nova-laced grooves.
Over 9 studio albums, he's created a whacky, inscrutable world, with a sound that somehow blends "Axl Rose, Kurt Cobain, Mick Jagger, Nusrat Fateh Ali Khan, and Ali FarkaToure." Weird but weirdly irresistible.
Friday, 8 June 2018; 8:00pm
Concert Hall 主厅
Tickets: TBC
Ticket Link: http://shsymphony.com/item-index-id-932.html
---
About The Shanghai Symphony Orchestra:
The Shanghai Symphony Orchestra (SSO) uses music to communicate, connect and engage with audiences around the world. The symphony believes that music – when expressed in its essence – is an entirely different form of communication – a fourth way for humans to communicate – beyond just the written word, spoken language and body expression. This music communicates in a language that crosses all ethnic, social, cultural and emotional boundaries. As Asia's oldest orchestra, the SSO brought Western classical music to China. Today, it remains a world-class orchestra which attracts internationally renowned artists while it still retains its Chinese essence. A beacon of culture and arts for Shanghai.
About Split Works:
Split Works has been rocking in the free (ish) world since 2006. Working with inspirational artists from across the globe, the good people at Split Works HQ have been a key contributor to the continued rise of China's music scene.Split Works has launched five music festivals and promoted over 400 tours to 30 Chinese cities, always striving to stay true to a familiar refrain: the music has to be special, every single time. From Godspeed You! Black Emperor to Sonic Youth, from Black Rabbit to JUE and Wooozy to Concrete & Grass. We love music, we love China and we love you.