For its organizers, a festival is a funny thing.  We start thinking about the next edition 2 months before the current one actually happens – we are always living in the future.  Then suddenly the present presents itself in full Technicolor glory 6 weeks out: looming deadlines, all-nighters and a sudden scouring of weather forecasts become our non-sleeping lives.  And then, in a matter of 48 hours, it's done.
摄影:杨枪枪
For two consecutive weekends in April, Michael Eavis's farm in Somerset becomes the one of the 20 largest cities in the UK, and sometimes it feels insane to put so much effort into something that lives for just a single weekend.  Our festival in Shanghai is not quite at Glastonbury's level (yet), but we like to think that their spirit burns strong in our veins.
摄影:李乐为
This year's Concrete & Grass bore strong traces of the Great British summer all around. Wellington Boots, rain ponchos and umbrellas interspersed Day One as we caught the tail end of not one, but two super typhoons moving South and East of us (some quick thoughts need to go out to the families and individuals whose lives were materially affected by those typhoons).  For the preceding 10-day period, we all became amateur meteorologists, furiously studying the various weather apps that predicted everything from torrential rain to clear and bright sunshine. 6 days out, MOMA Festival threw in the towel, postponing their event due to a typhoon (that was never actually predicted to hit Shanghai). We marched on, believing that a festival in the rain is better than no festival at all.  We managed to get the site mostly set up to its beautiful best by 6pm the day before doors, but then the heavens opened and rain strafed the site for a good 12 hours. When we returned the following morning, a lot of the infrastructure was trashed, but everyone pulled together and by 1130 we were open for business (sorry to those people that arrived at the advertised opening time of 1100).
摄影:高文一
You know what though? Rain at a festival brings out the very best in people.  Fiery energy crackled around the site, as people braved the elements and the brooding grey skies to come out and party.  Our recently adopted house band Kingston Rudieska brought sunshine and light to the wet underfoot-Downtown field.  Benjamin Francis Leftwich was the perfect accompaniment to the swirling clouds while Chinese Football played to a deservingly massive crowd. All the while, the Wooozy Dimension was boiling over – Peezy and Bloodz Boi bringing their Atlanta-via-Beijing attitude to an already raucous crowd.  As predicted, Iron Mic, Father and Little Simz built to the crescendo that was A$AP Ferg. The tent was full to overflowing as Ferg and his MC's laid waste to Shanghai's over excited trap lovers, the rain pinning them inside to be treated to a 90 minute masterclass by the one and only Preemo.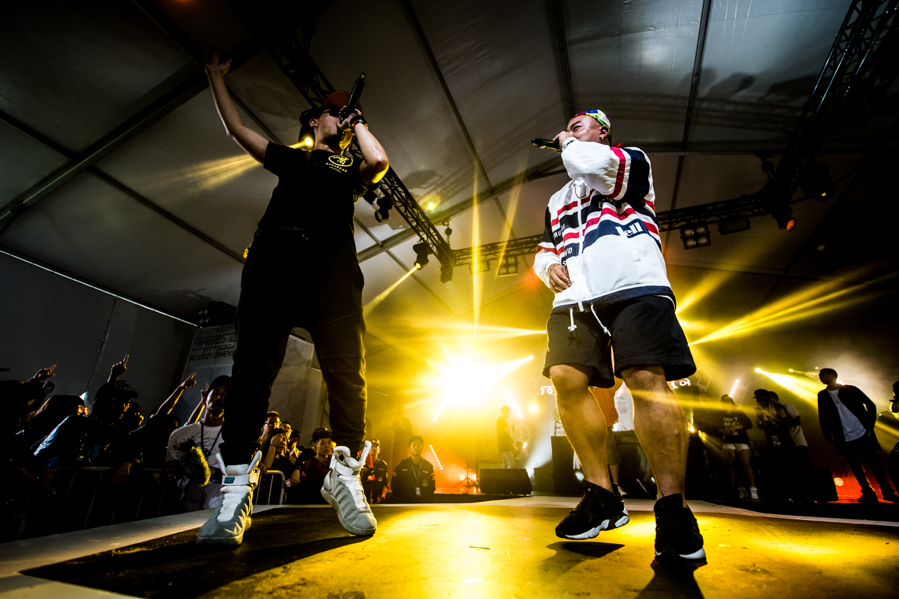 摄影:胡小杰
摄影:胡小杰
摄影:胡小杰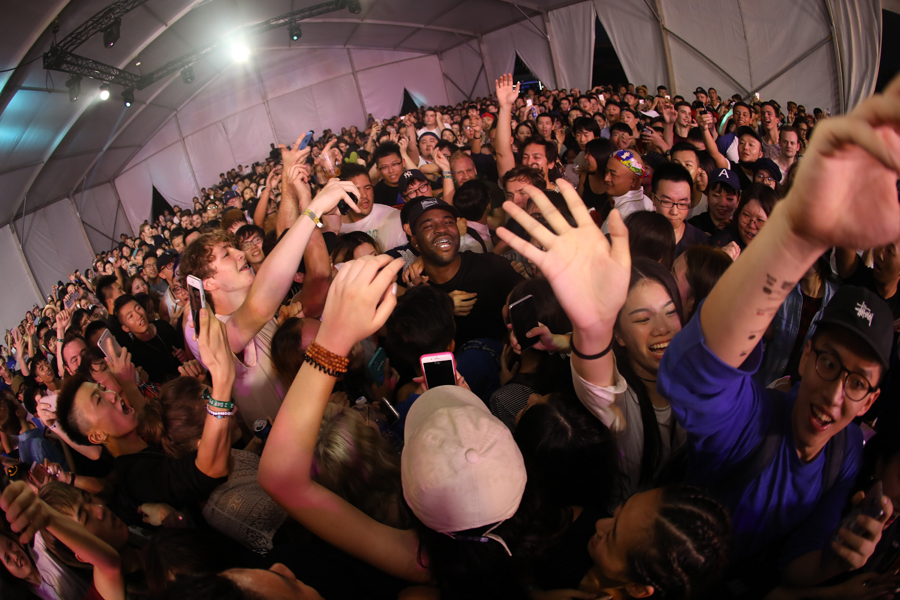 摄影:李乐为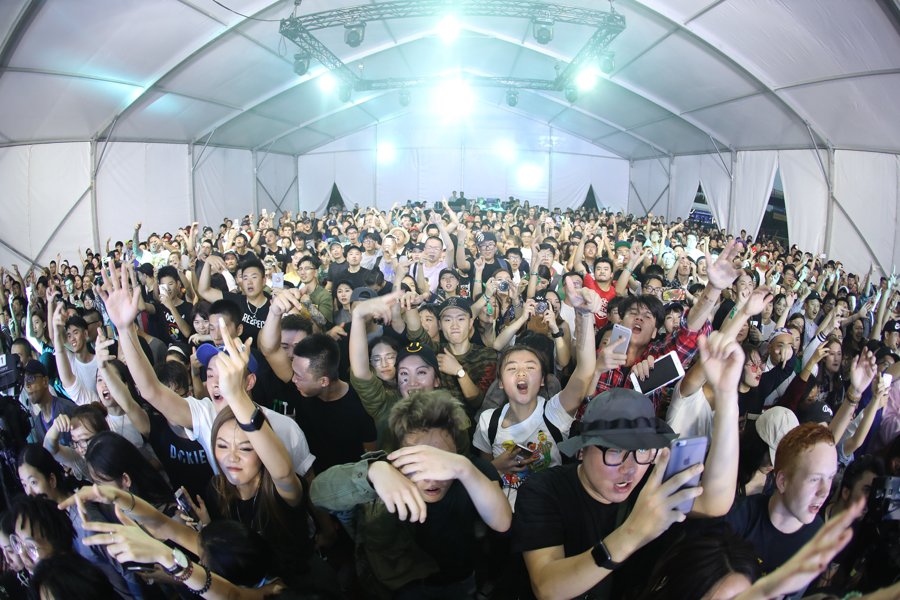 摄影:李乐为
摄影:高文一
摄影:童畅
Meanwhile, on Stage Left, a lightning storm haloed the post-apocalyptic noise of Jambinai. The Storm Was Coming.  Almost as soon as they finished, the thunderclaps that had seemed so far away turned a deluge of sideways rain.  Over on the Echo Stage, Miyavi took the storm head on, shredding hard as the torrents boiled.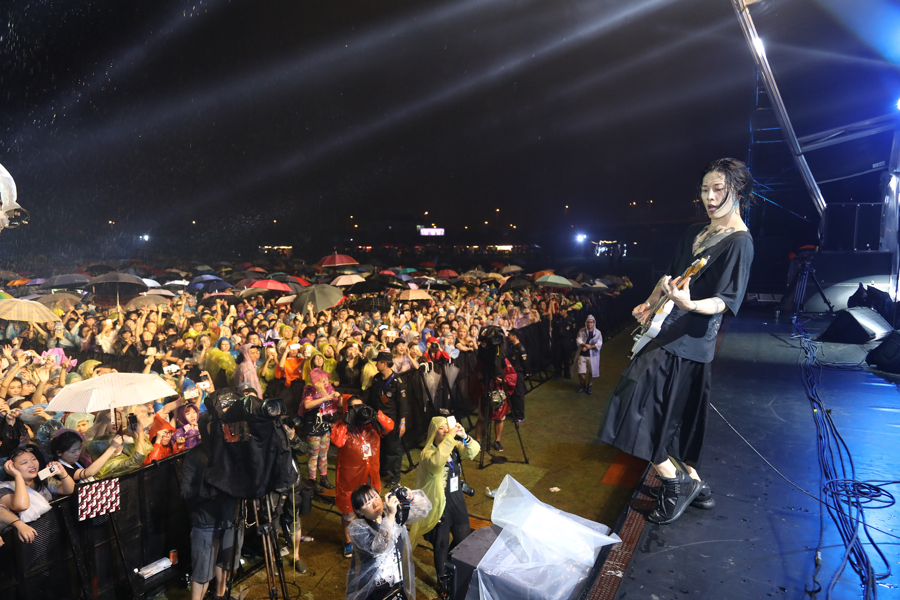 摄影:李乐为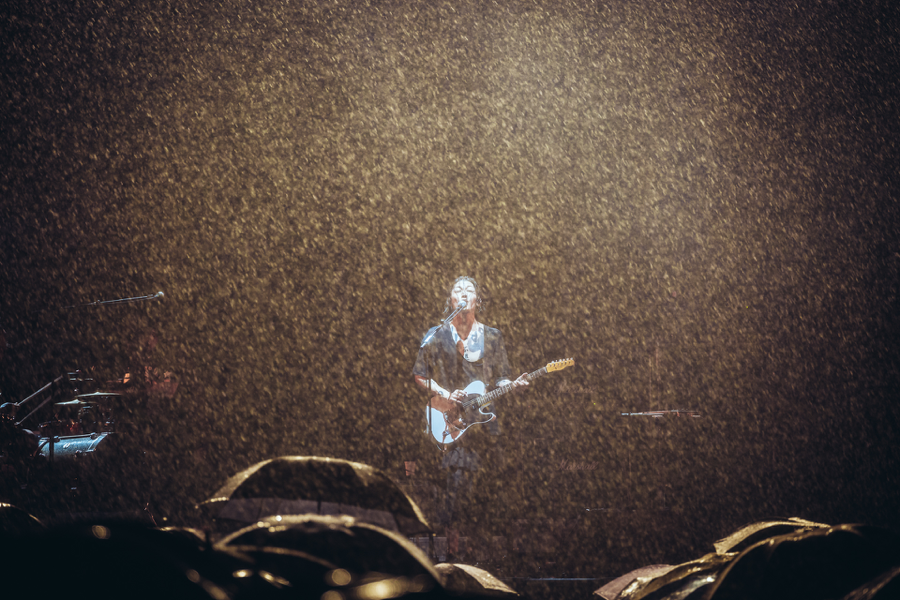 摄影:七仔
摄影:七仔
Stage Left was a different story – the rain was coming in front on and soaking all the gear on stage. Not wanting to risk electrocution, we huddled backstage and decided that the only thing we could do to give the Silverstein fans something to remember was to send vocalist Shane Told into the maw of the storm to perform an utterly unique and never-before-performed solo acoustic set.  This image will remain etched in our souls forever.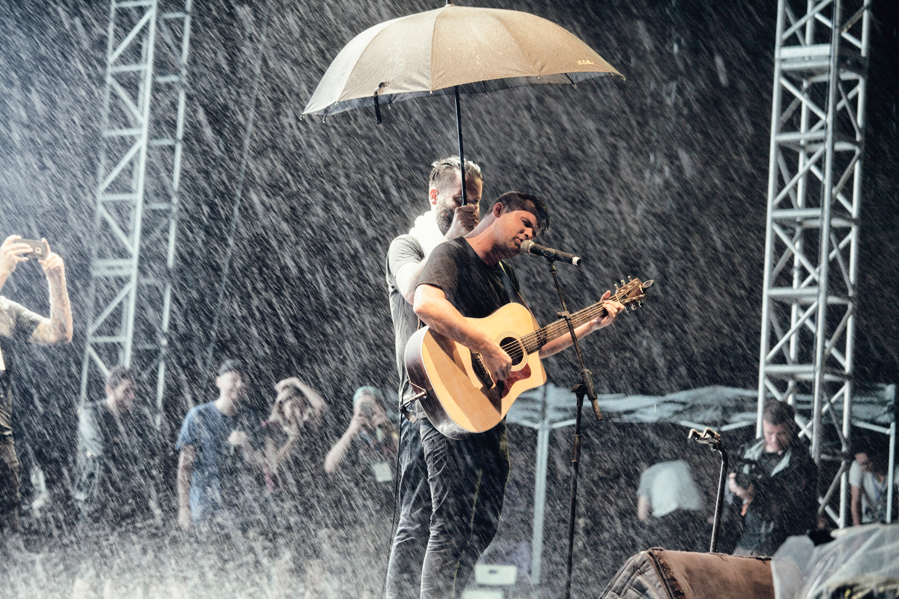 摄影:杨枪枪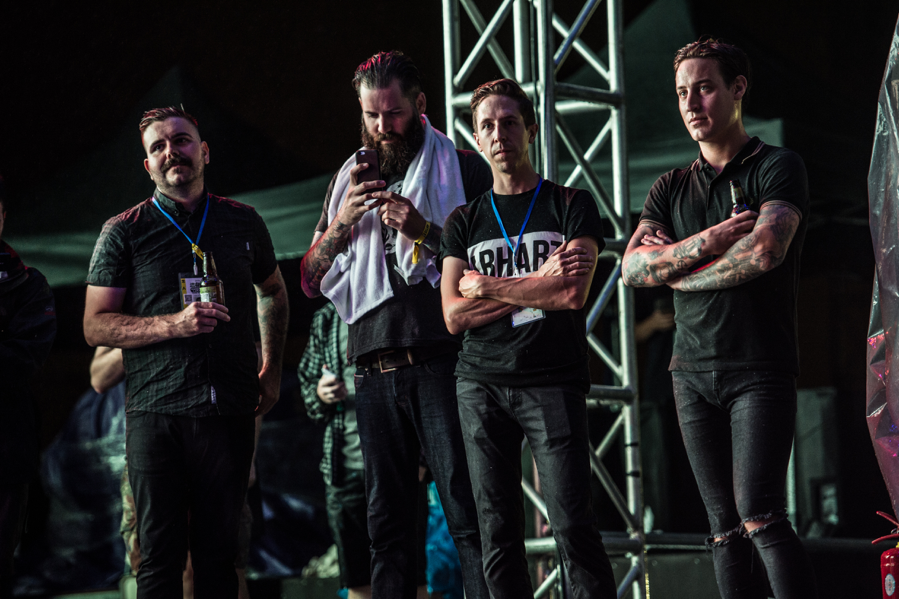 摄影:胡小杰
The only total weather casualty was the much-anticipated Zuriaake debut, but we hurriedly organized a late night show for them at the wonderfully accommodating Yuyintang, and donated a bus for their fans to get there in time.  Apparently it was an amazing show!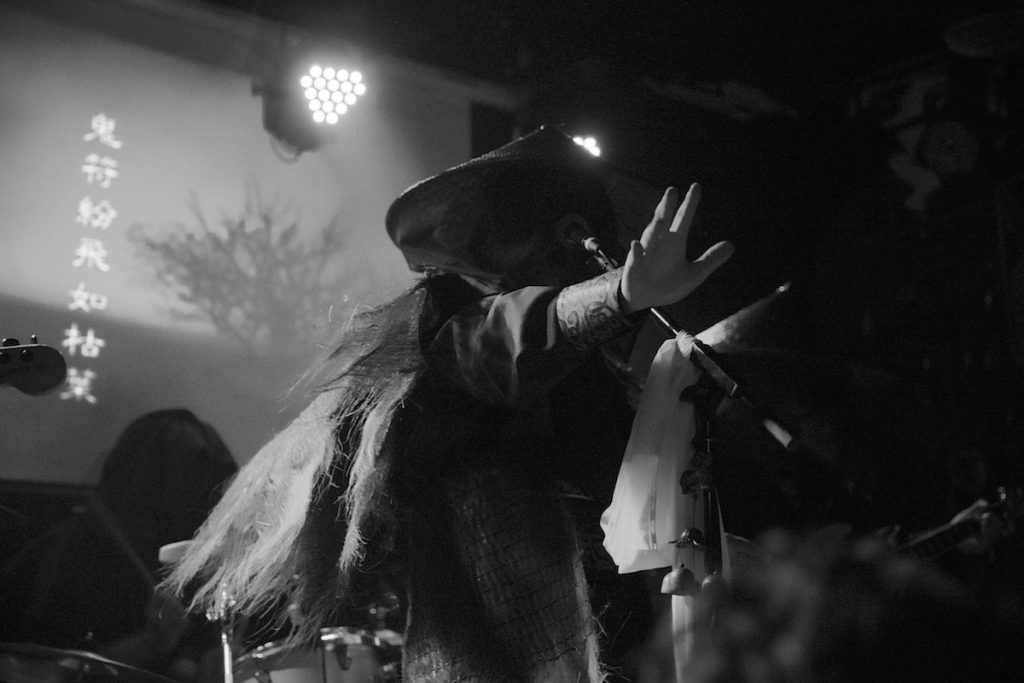 摄影:杨枪枪
Back on the Echo Stage, drenched Edison Chen fans were unbowed, and he came on stage to the biggest scream a Split Works show has ever experienced.
摄影:胡小杰
摄影:李乐为
With the Yurt and Wooozy Dimension cranking hard, the rain became a badge of honor, worn with pride. Once you are in it, it engulfs you and there is nothing to do but embrace it.
Saturday dawned bright and clear.  Not only was there no rain (and no sign of it) but the sky was that amazing combination of cloud and blue, the white, fluffy cumulus scudding across a sun drenched sky.  Finally, we could prepare the site that we had imagined in our dreams.  The new Jimboomba area was replete with beanbags, acoustic performances and kids playing on huge inflatable toys.  Our friends from the Sunshine Home bestowed upon us a traditional drum circle.  In return, our other house band, Hutong Yellow Weasels, taught them to square dance.  A quick note to Chris and the boys and girls of Hutong Yellow. They played, danced and laughed for 2 days straight – from headline performances, to square dance lessons, to Appalachian music workshops, to roving performances, they were a constant ball of energy and contributed much to the energy of the festival.
摄影:胡小杰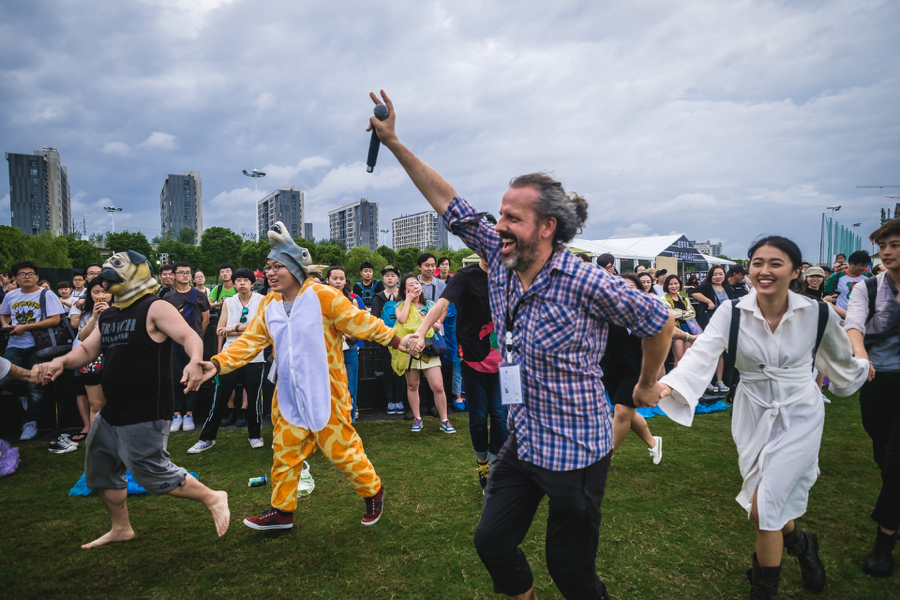 摄影:七仔
摄影:杨毅东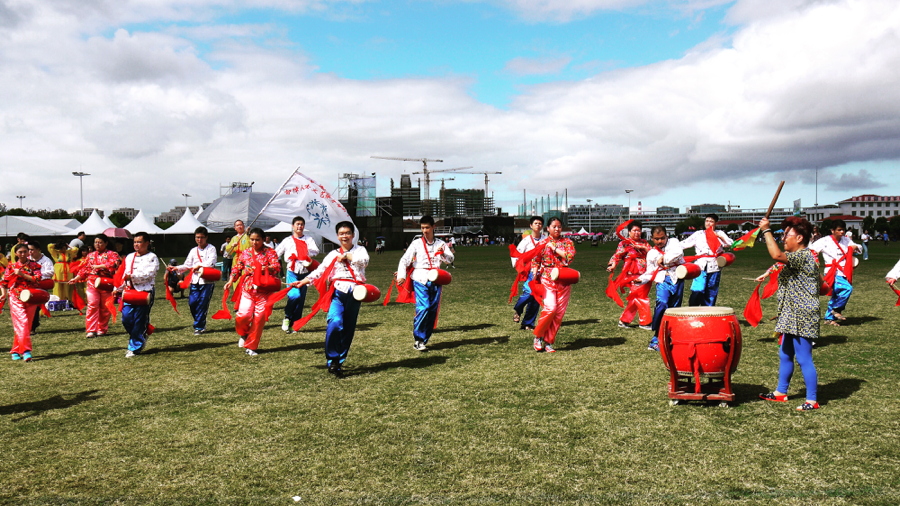 摄影:Miya
Stage Left got a bit angry, starting with Pairs drummer Rhys in his new band Thug Mills.  Singing partly in English and partly in Chinese, he managed to woo and rile the crowd in equal measure. Birdstriking got one of the biggest crowds of the day and slayed them, followed in the same vein by Die!Die!Die! and then the cosmic stylings of About Tess.  Finally, the moment many had been waiting for, the China debut of Cribs, and they didn't disappoint.  It was the last show of their 6th album tour, and they made best use of it, leaving it all out on a sunny Stage Left.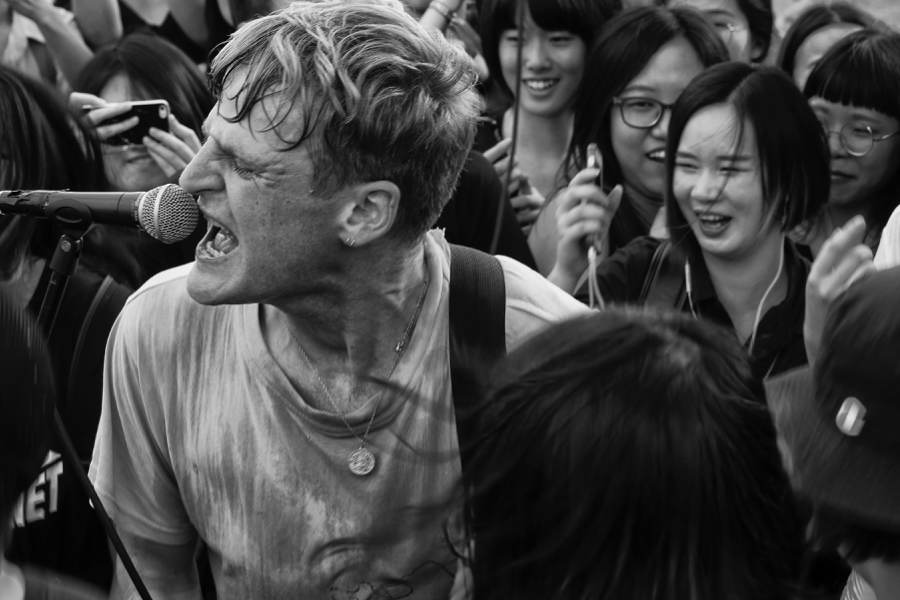 摄影:杨枪枪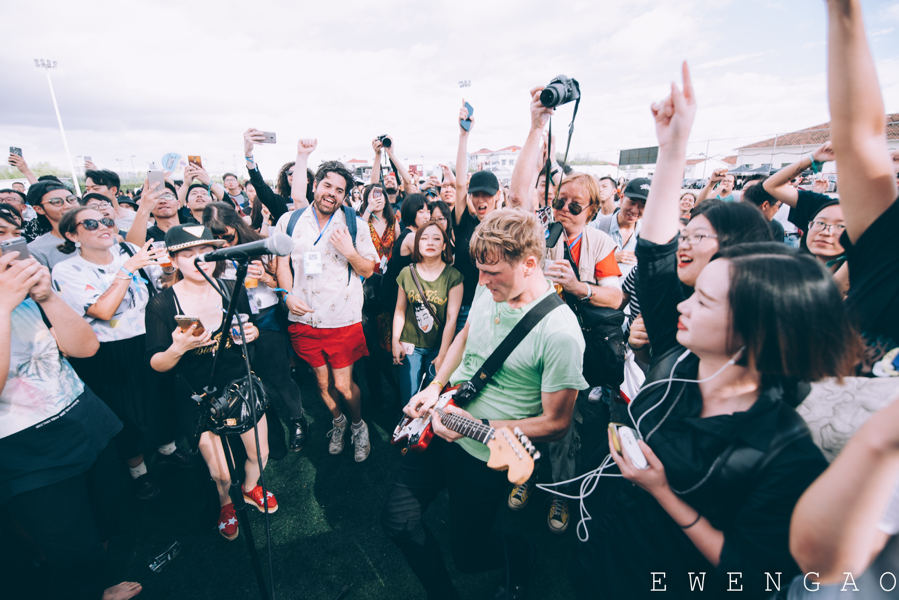 摄影:高文一
摄影:李乐为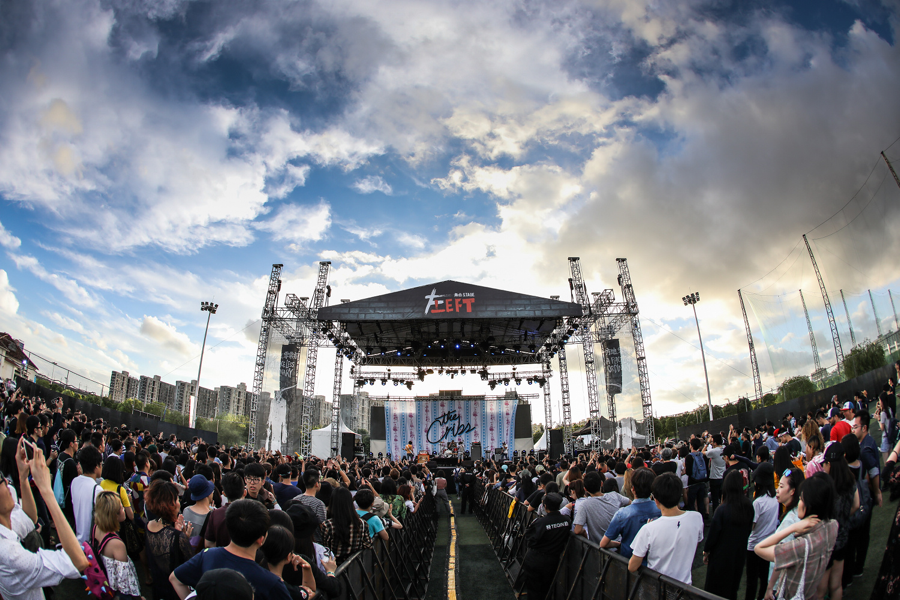 摄影:李乐为
The Echo Stage had been buzzing all afternoon.  Cosmos People brought effervescent indie pop from Taipei to an adoring crowd, shortly after Jessica Care Moore teamed up with the Iron Mic crew for a completely unique half hour of spoken word, straight outta Detroit.  The Go! Team were their effervescent best, bouncing and rolling across the stage, their third trip to China proving that they have built a really solid audience here.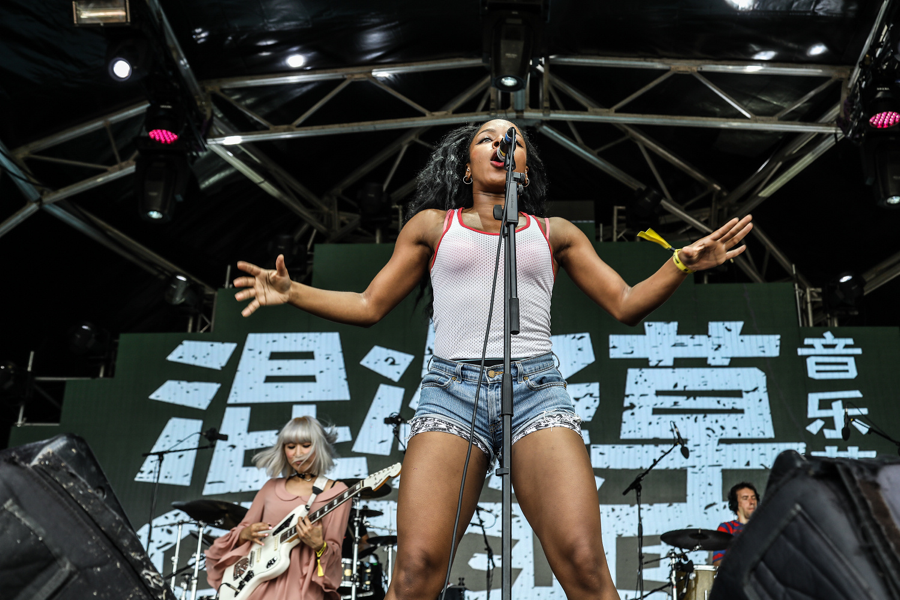 摄影:李乐为
The Korean Hip Hop of Drunken Tiger and Yoonmirae promised much and delivered more, but it was the arrival in China of American alt-indie legend Stephen Malkmus under a reddening sky that created genuine excitement.  His songs spanning over 20 years were the perfect counterpoint to the setting sun and lifelong Pavement fans sobbed into their petticoats as guitar solos rang out across Downtown.  One of our favorite moments was welcoming Dalian post rock heroes Wang Wen to the Echo Stage.  With their euphoric, rolling songs, their subtle but beautiful production and the care and attention that they gave to their stage set, their sound and their performance held a massive crowd (with quite a lot of Sekai No Owari fans in there) entranced.  It's always a pleasure for us to put local, domestic artists that have worked their way up through the club circuit onto our main stage and this was no different.  Huge props to Wang Wen who have done it their own way.  The stage was closed by the eccentric pop stylings of Sekai No Owari – an upbeat, feel good show from Japan that polarized opinions, but made a lot of people very, very happy.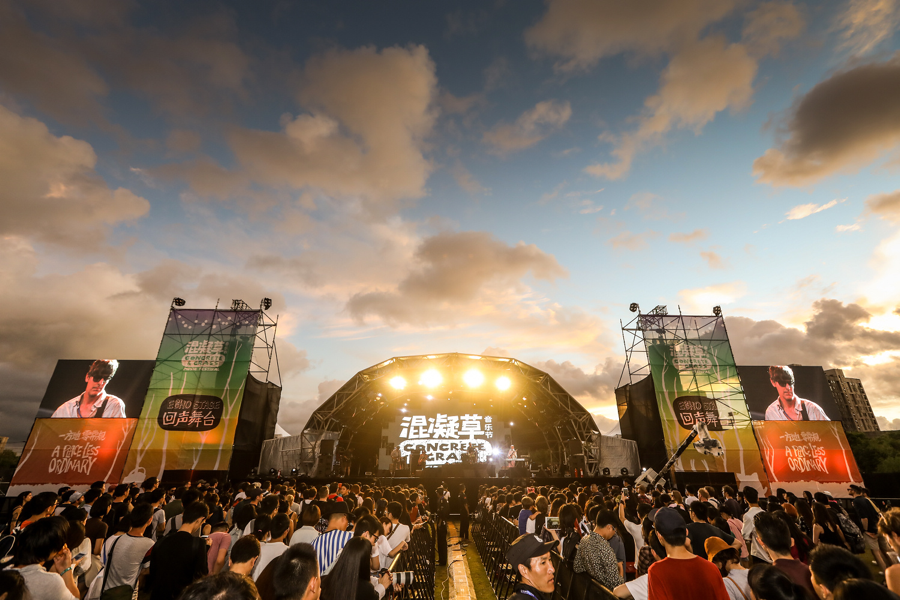 摄影:李乐为
摄影:李乐为
摄影:李乐为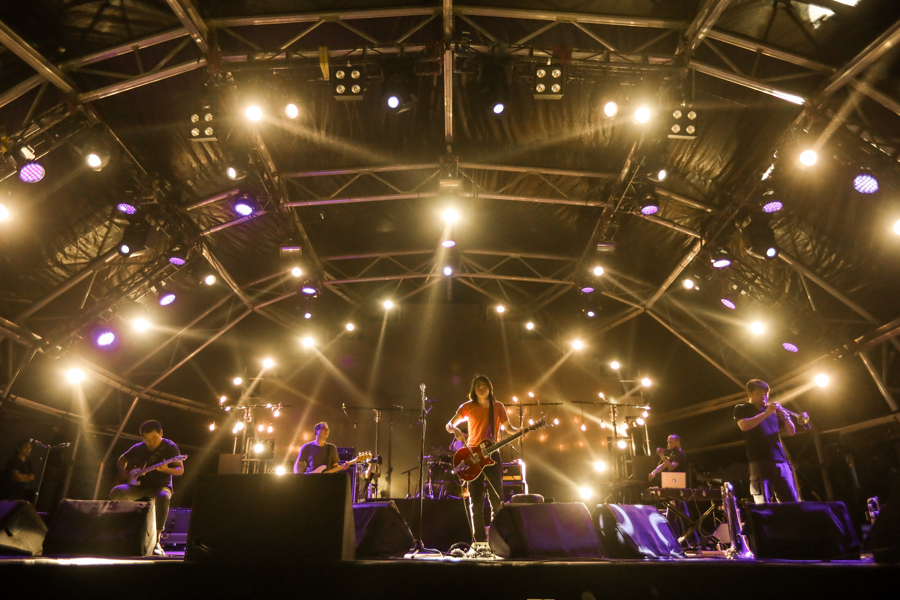 摄影:李乐为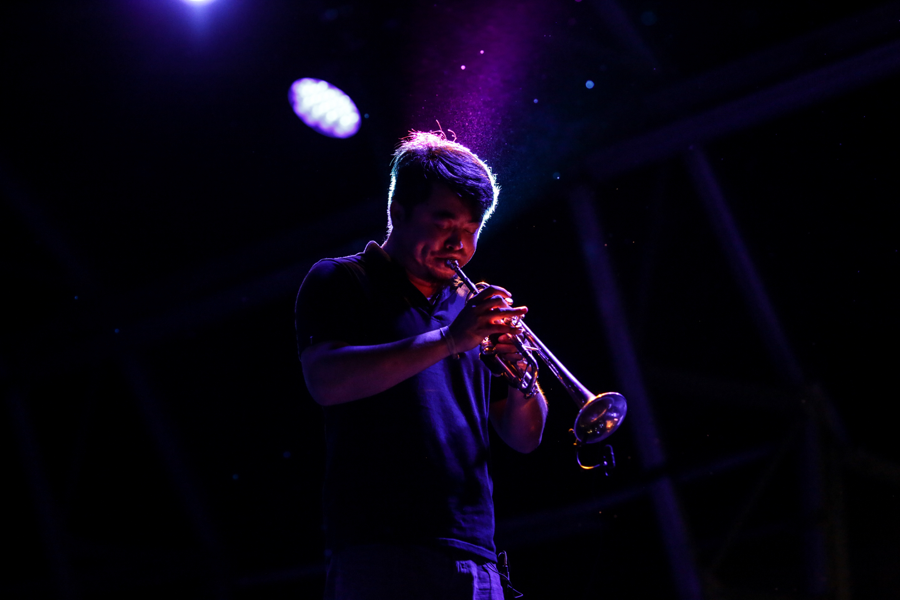 摄影:Metal Micky
摄影:杨谖
摄影:Metal Micky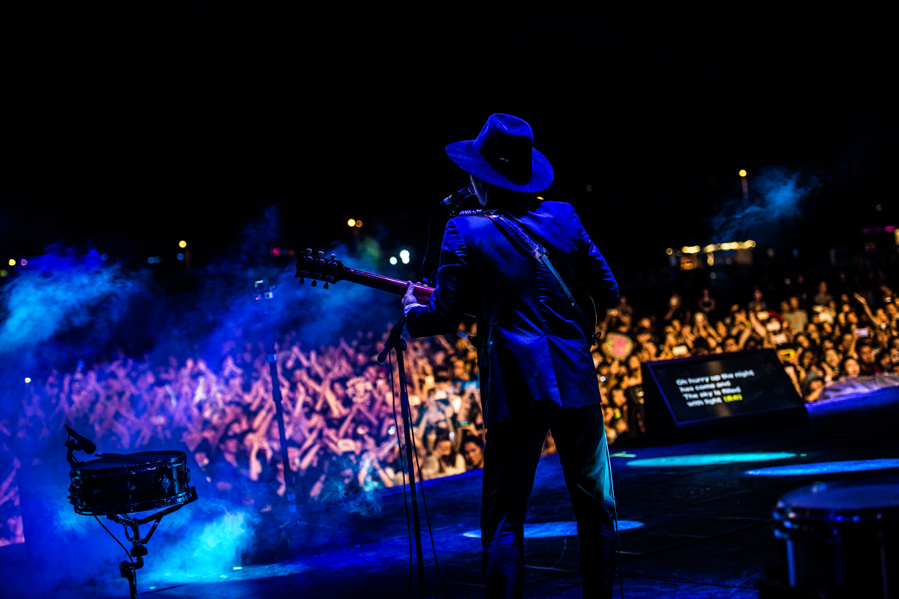 摄影:胡小杰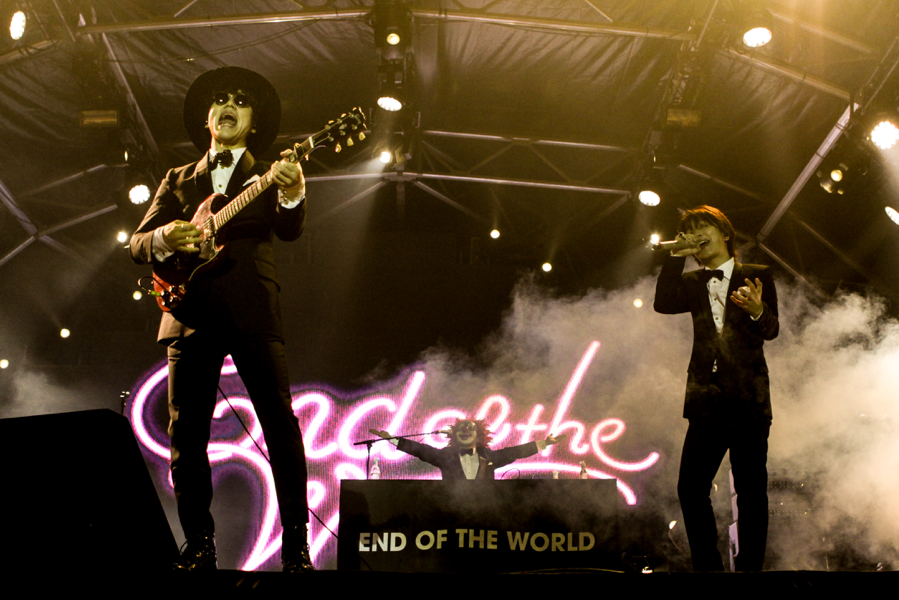 摄影:Metal Micky
The Wooozy Dimension played host to a more electronic lineup on the Saturday. French darkwave band Future kicked it off with the last show of their extensive China tour.  Jason Hou and Yider warmed things up nicely with their bizarre instruments and fantastic delivery. Local hero Conrank played live for the very first time anywhere in the world, PVT smashed it out of the park and hometown legend Ma Haiping made his Split Works debut to great acclaim with his full band performance being many people's pick of the festival.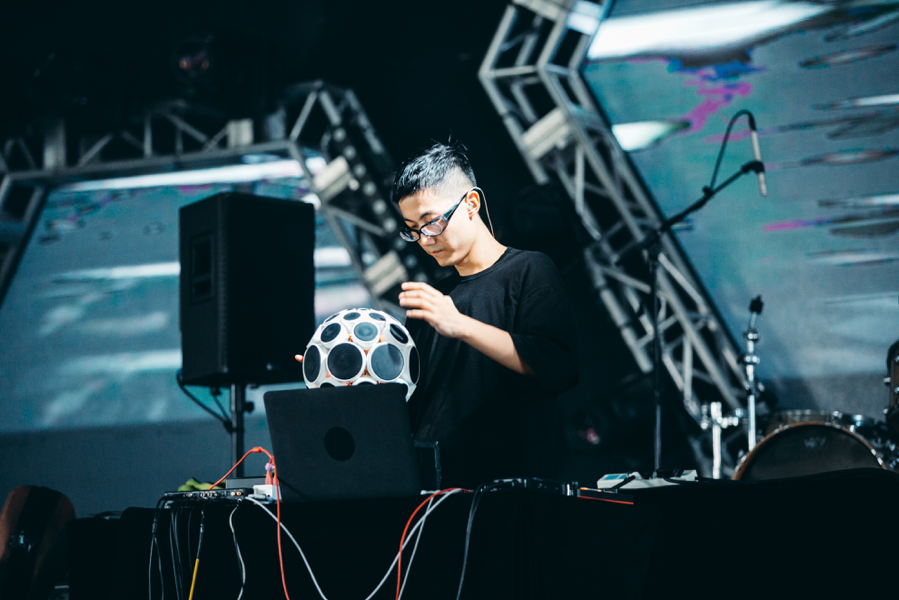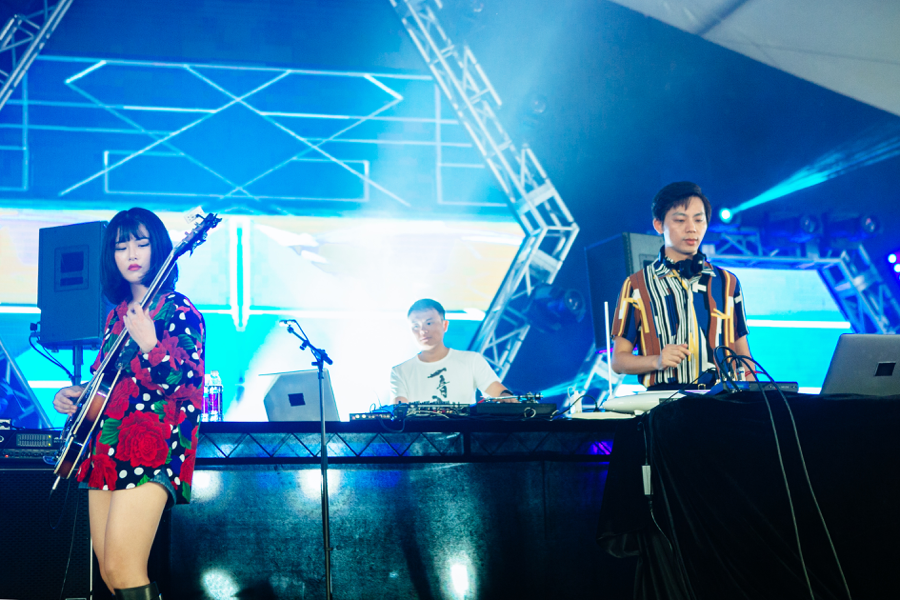 摄影:童畅
The Yurt was pumping all weekend, but never more so as the festival closed.  Aisha Devi's ethereal, heavy and genre bending live performance was definitely the most eye catching, but the Shanghai crew held it down and Ben UFO, Tiago and Hobbes all smashed it.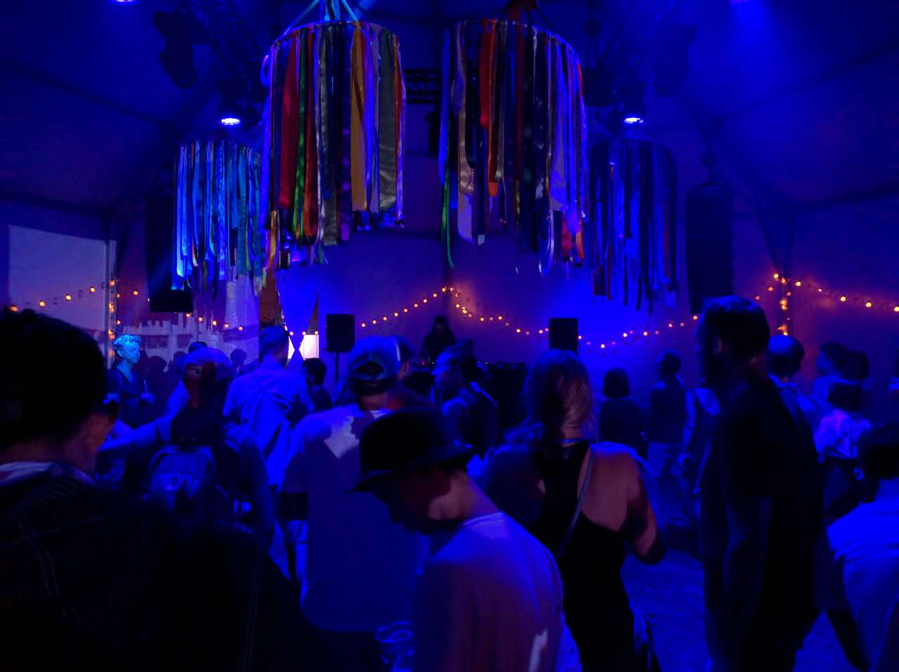 摄影:Archie Hamilton
摄影:杨谖
A final word to our closers on Stage Left.  We try and plan runs of artists that compliment each other, bringing energy and contrast to their performances.  The Algorithm started this final triplet, with tech metal from another dimension.  Local legends Re-Tros played one of our festivals for the very first time and produced a beautifully amazing evening set to a massive crowd…..  most of whom stayed for an incendiary festival closing set by LA experimental noise titans HEALTH, who shut everything down with the shortest and most magnificent 15 second encore we have ever been privileged to witness.
摄影:杨枪枪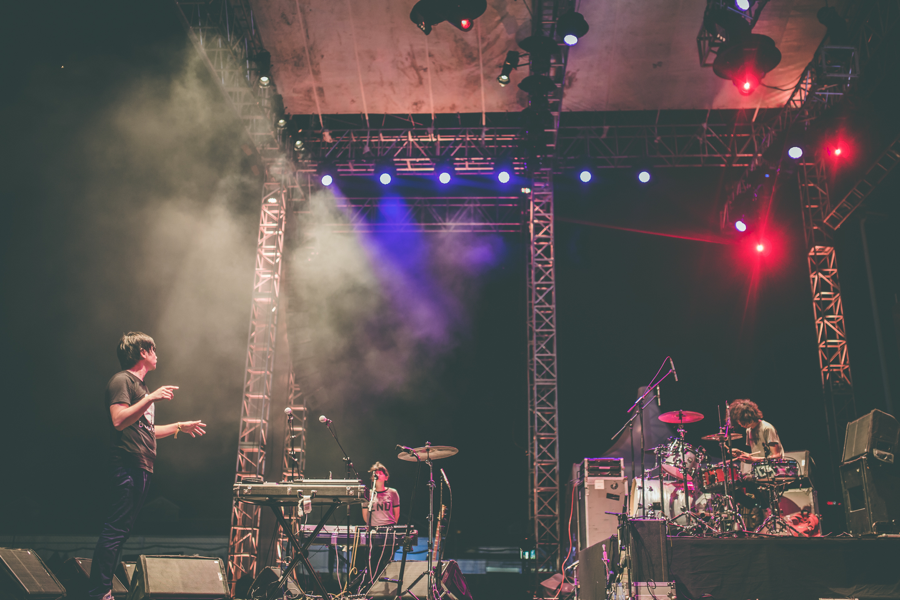 摄影:Freddie Chien
摄影:杨枪枪
摄影:高文一
On a personal note, Concrete & Grass is a yearlong passion project.  It's sometimes amazing to think that one little 2-day party costs us so many months of insanity and pain.  There were times that we thought it was all too hard – can any one thing really be worth so much stress?  But then it happens, and you see how happy we make people, from our friends of the Sunshine Home, to the fans that turned up at 1130 on a day that promised to be crazy rain and typhoon weather to the kids that ran around the grass free and unbound.  It suddenly makes sense, and it makes us want to do it all over again (definitely not right now, but sometime in the future :-)).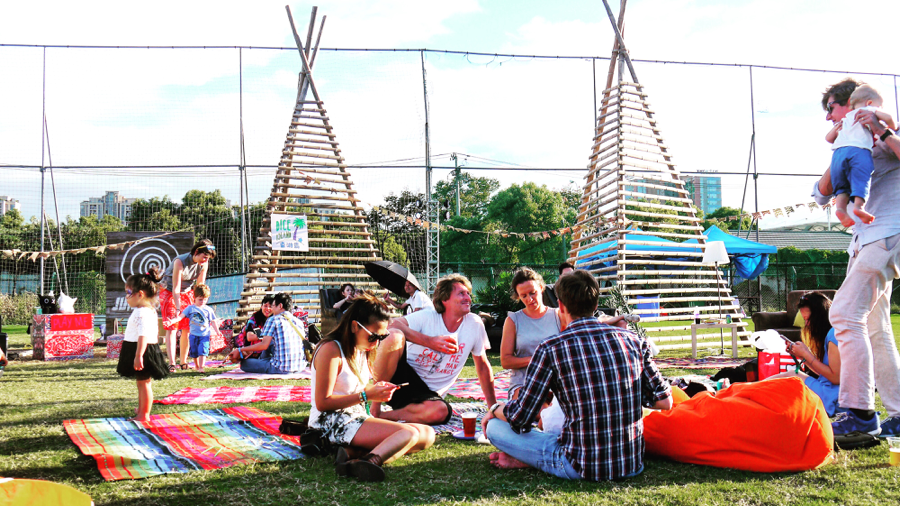 摄影:Miya
摄影:Freddie Chien
There are easier ways to make a living for sure; we could have less stressful lives, but there is nowhere that we could find a more satisfying way to live our lives, there is nowhere we could find work with a better, more beautiful collection of people.  We share a dream, we want life to be better for everyone and we are all lucky enough to have a way to express that in reality.   China needs every single one of you to help it to become a place where people love each other, help each other, look after each other.  A place where money or looks are not the single most important things – friendship, camaraderie and belief in a better world ARE.
摄影:Freddie Chien
It would be great to take a moment to thank our amazing team, the 40+ guys and gals that work for Split Works year round, that break their collective souls to bring you all of this wonderful music.  China doesn't make this easy – permits, customs, typhoons, bureaucracy, curfews, shakedowns, but we try – we try every day to make this better, and sometimes we succeed.  When the sun came out on Saturday, it felt like we were going to be OK, and the only reason for that was the work put in by the team.
摄影:Freddie Chien
To our partners at Damai Live – you worked so hard to make this a reality.  Your belief, resolve and trust make this all possible.  You guys rock.
To all our wonderful artists – you are the festival – without you we are nothing.  Thanks for making it all so special.
To the people that join us every year to make it possible and invest their blood and sweat in the festival: Brad and his incredible team, Leon and his people, Irene, Kelvin, Eddy from Tailor Bar, the Star Events crew, the Sheraton, all of our wonderful interns and volunteers, the Hands On crew, our new friends from the Sunshine Home, Jonah, Danni, Cassie, Isa and the El Willy team, the Kick the Gong Around and Kars and Kows amazingness, Sam, Heyin, Heatwolves, Super Sophia, Timeout, the princes and princesses from the French Cultural bodies who enabled us to have 3 bands from that great place, and of course our amazing hosts, the Shanghai Community Sports Club.
摄影:Miya
摄影:童畅
To our amazing food vendors – the food was a smash hit – to our Frisbee friends, to Steph and the Fun Factory who kept the kids pumping – you guys are heroes.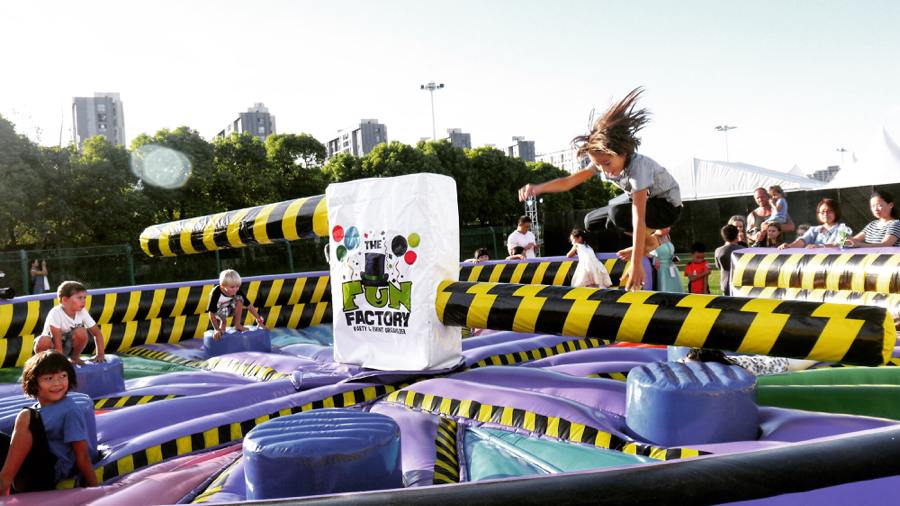 摄影:Miya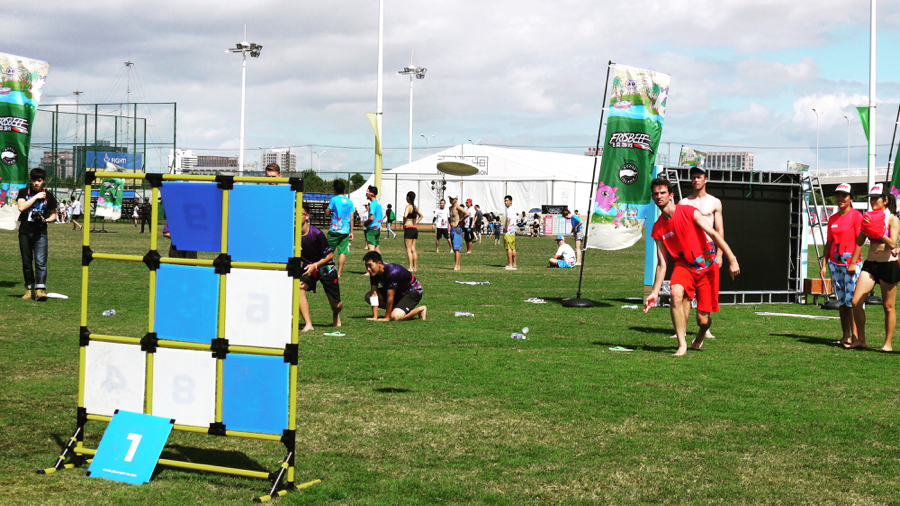 摄影:Miya
To our wonderful sponsors – without you, this certainly would never happen.  Topshop // Topman // Shangpin, Goose Island, Whaley, China Unicom and Absolut, you guys brought your A-Game and people loved you for it.  Thanks!
摄影:童畅
摄影:李乐为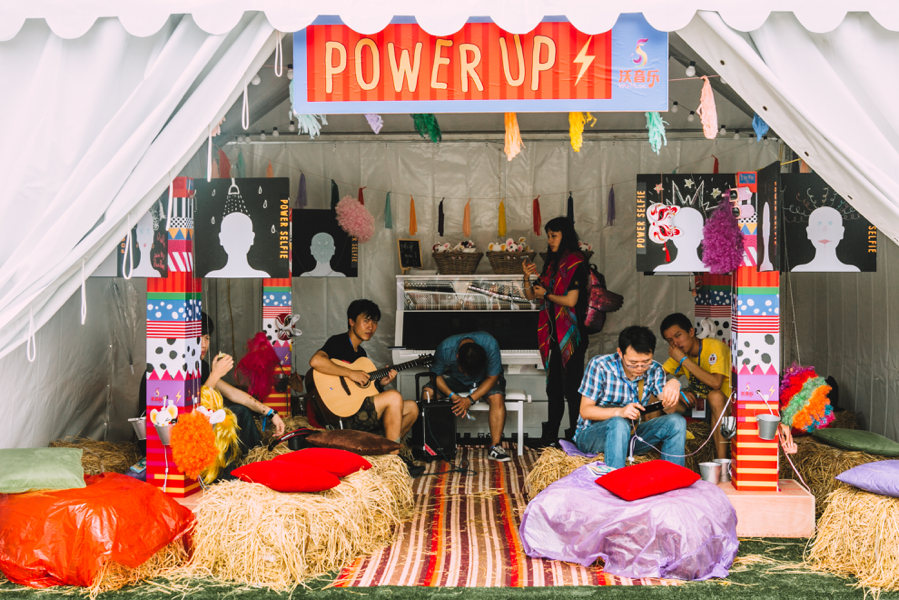 摄影:童畅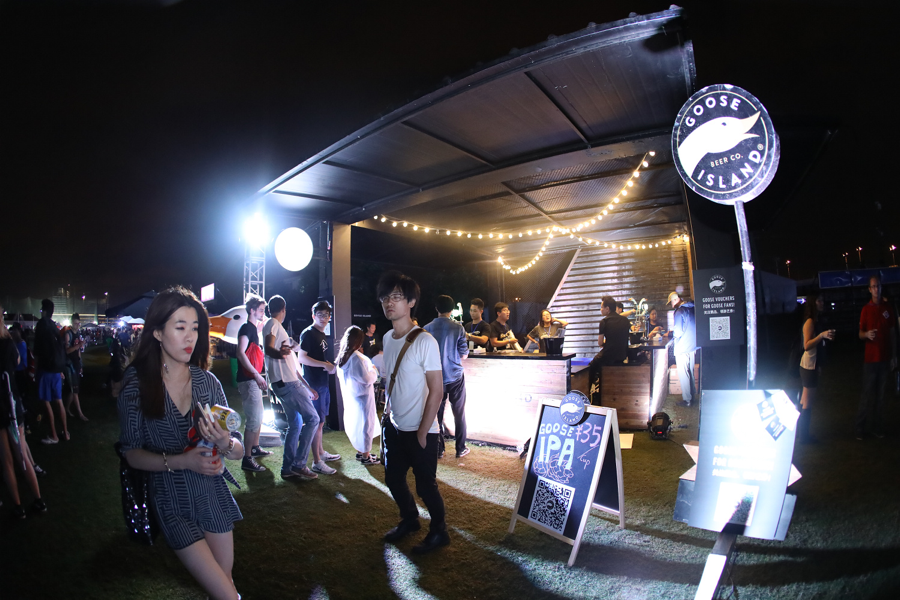 摄影:李乐为
摄影:童畅
摄影:童畅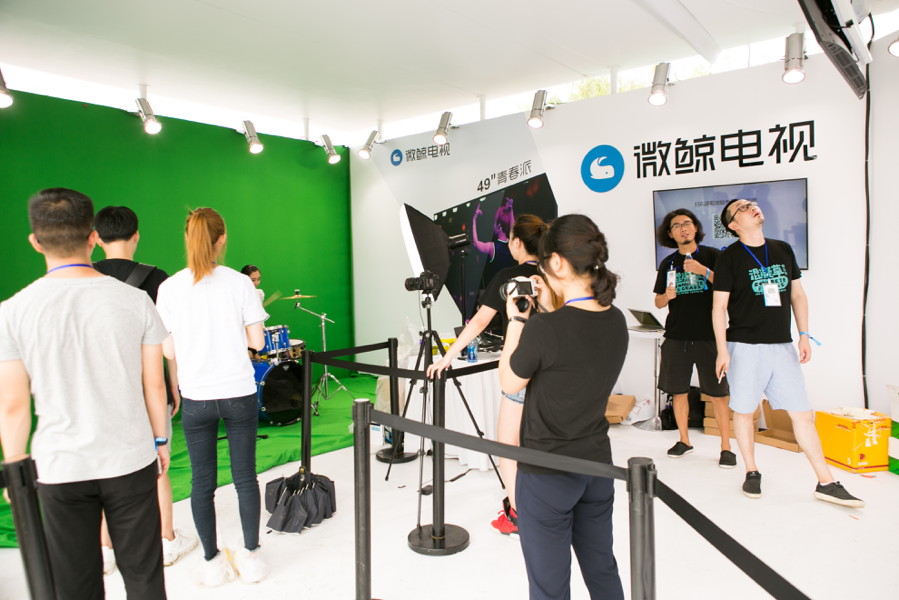 摄影:童畅
Roll on 2017. It's gonna be huge!
For its organizers, a festival is a funny thing.  We start thinking about the next edition 2 months before the current one actually happens – we are always living in the future.  Then suddenly the present presents itself in full Technicolor glory 6 weeks out: looming deadlines, all-nighters and a sudden scouring of weather forecasts become our non-sleeping lives.  And then, in a matter of 48 hours, it's done.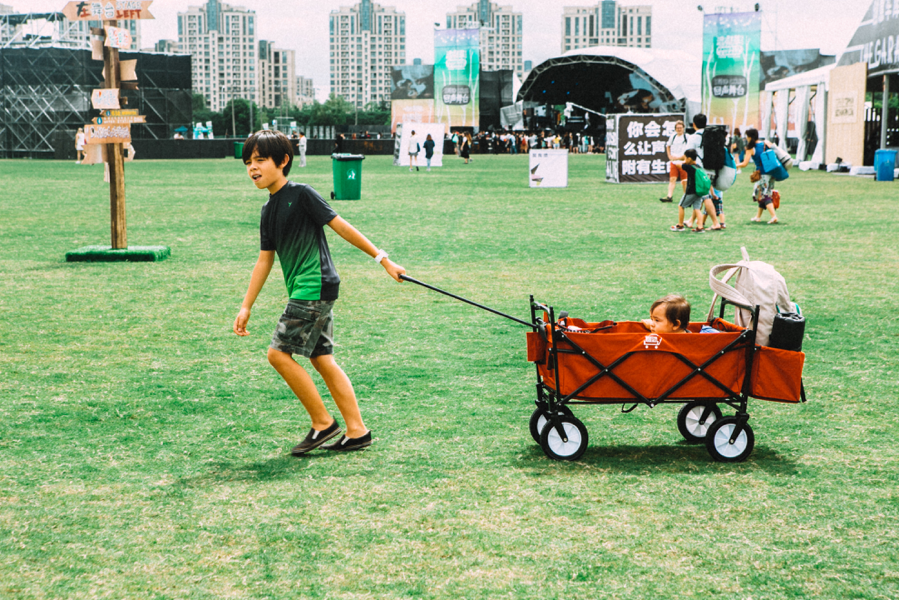 摄影:童畅