Dear MIKA fans,
We are very sad to announce that due to health complications, MIKA will be unable to complete his tour in China. Following amazing performances in Beijing and Hangzhou, the energetic star – who so kindly helped us overcome a near cancellation in Beijing by playing two shows – was admitted to hospital in Hangzhou. We are truly sorry and understand that this cancellation may have caused you disappointment and loss.  Please see below for an explanation from MIKA himself:
To my fans in Shenzhen and Hong Kong, 
It is with great regret that I am forced to cancel my final two Chinese shows in Shenzhen and Hong Kong. I started to feel unwell in Japan 5 days ago and after visiting the hospital in Hangzhou this morning, I have been told by the ENT surgeon to rest my voice for the next 5 days, so as not to compromise my vocal chords any further. The condition is quite serious, otherwise I would never even consider cancelling a show. 
This is heartbreaking for me. I have waited for years to come and play for my Chinese fans. 
I am so sorry to disappoint you. The shows so far have been truly magic, and I promise that I will be back soon. 
Mika  xxxx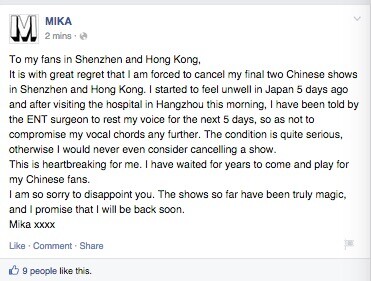 REFUND INSTRUCTIONS:
 Fortunately we are able to refund all tickets purchased via Youyanchu and Yoopay. Your money will return to your account automatically within 3 – 5 working days. If you used Taobao to complete your transaction, your money will return to your Alipay account. If you do not receive your funds, please call these hotlines:
 Yoopay: 400.0800.620
Youyanchu: 4008.5566.94
Here at Split Works we wish there was something more we could do. For now we simply wish MIKA a speedy recovery, so he can one day return to see us.
Rock on,
Split Works Team