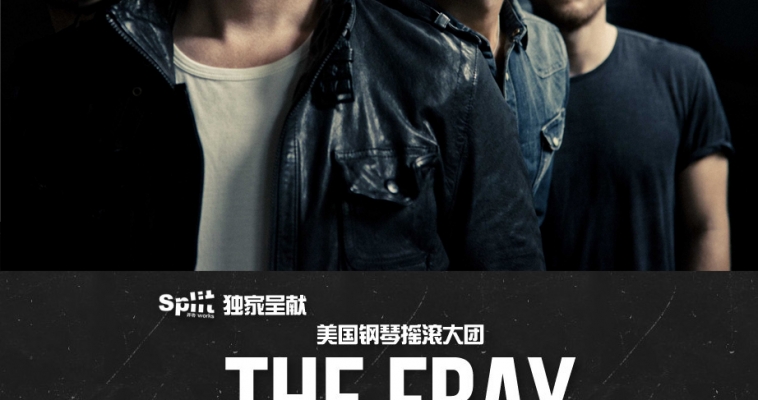 It's here! The long-awaited performance license for The Fray is in our hands and tickets are finally on sale online and in our ticketing partner locations around Beijing. However, we have one additional caveat: due to the timing of the concert in Beijing and relevant regulations, there will be limited tickets for the show at Tango 3F. Due to the limited capacity requirements, we will be releasing 100 tickets at the RMB 200 price only on our official taobao shop. After they have been purchased, we will continue to sell tickets at the RMB 260 price level until we reach venue capacity. We will announce when capacity has been reached. To ensure you will have a ticket for the show, we encourage The Fray's fans to act early!
100 limited 200 RMB tickets will be only available on taobao
– Link: http://splitworks.taobao.com/ (SOLD OUT)
After they are sold out, 260 RMB tickets may be purchased in advance in the following ways
Online booking (Presale ends on Tuesday, Nov. 12th at 5PM)
– Link: http://splitworks.taobao.com/
Ticketing Outlets (Presale ends 1 day before the show, except Tango 1/F Box Office)
– Tango 1/F Box Office (Mon-Sun, 24 hours)
Address: 79 Heping Xijie, Dongcheng District
– Helen's Café (Mon-Sun, 11AM – Midnight)
Address: 200m south of the Wudaokou Subway Stop, Chengfu Lu
– Crepanini (Mon-Sun, 9AM – Midnight)
Address: 1/F Nali Patio, 81 Sanlitun Lu
– Plastered T-Shirts (Mon-Sun, 10AM-10PM)
Address: 61 Nanluoguxiang
Door (start from 6PM on the show day)
Door tickets (260RMB) will be available if advance tickets do not sell out.
【Beijing】
● November 14th, 2012 @ Tango 3rd Floor
79 Heping Xijie (50m north of the Yonghegong Bridge)
Ticket Price: 200 RMB (Presale) / 260 RMB (Doors)